Build your very own aquarium at home!
Thursday 16th April 2020
Craft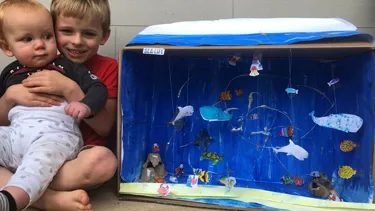 Get creative and bring our aquarium home to you and your family! Colour, cut & paste your way to your very own SEA LIFE Sydney Aquarium at home!
WHAT YOU'LL NEED: 
Glue 
Scissors 
String 
A medium sized box 
Colourful paints 
Colourful pens/pencils/markers 
Tape 
Scrap paper 
Optional: egg carton, sand, pebbles 
HOW TO MAKE YOUR HOME AQUARIUM: 
Download our exclusive under the sea colouring in HERE. 


Print off your SEA LIFE colouring in and get colouring! Use pencils, paint, markers - whatever you would like to make your aquarium as colourful as you would like! 
Once you have finished giving your sea creatures some colour it is time to cut them out!


Now lets build the tank. Take a medium sized box and remove one of its sides. Then take 5 pieces of paper that fit perfectly inside your box and paint each one a mix of blues and whites to represent the water in your aquarium 



Once your pieces of paper have dried glue them to the inside of your aquarium box. 



Now it is time to populate your aquarium with your coloured creatures! Take pieces of string and tape it to the back of your creatures and the other end to the top of the aquarium box. It should look like your little creatures and swimming in their new home. 



You can add in sand and/pebbles to the bottom of you aquarium to make it look more like a sea floor if you would like. Another option is to use egg cartons to make a rocky-looking sea floor. 



And you are done! Now you have your very own SEA LIFE Sydney in your own home - make sure you look afer your sea creatures! 
Want more SEA LIFE activities and crafts? Dive in to our Virtual Aquarium!