Experience the 'Aquarium After Dark'
Thursday 13th June 2019
Jellyfish, Events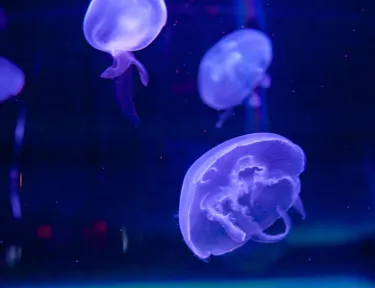 Experience the 'Aquarium After Dark' and discover the weird and wonderful world of jellyfish at SEA LIFE Sydney Aquarium
Jellyfish are one of the world's most successful organisms, silently swimming in our oceans for over 500 million years! These mysterious and ethereal creatures can be breathtakingly beautiful but also deadly.
For one night only on Wednesday 26th June, SEA LIFE Sydney Aquarium together with Science Communicator and Environmentalist Laura Wells and Associate Professor Greg Neely of the University of Sydney are hosting an 'Aquarium After Dark' event focusing on the wonderful world of jellyfish. From myth busting and interactive displays to hearing first hand from the pain expert who discovered the antidote to the deadly box jellyfish venom, this is the perfect evening of discovery for marine lovers!
Guests will have full access to the Aquarium after dark before navigating Jellyfish Garden and then embarking on an intimate and educational evening emceed by Laura Wells. The evening will include:
An interactive talk showcasing the awe-inspiring blubber jellies, moon jellies and upside down jellyfish with SEA LIFE Sydney Aquarium's resident jellyfish expert, Patrick Noble
A talk by Associate Professor Greg Neely of the University of Sydney - the lead researcher in the team who recently discovered an antidote to the deadly box jellyfish sting
Greg's research which is now part of a bigger project at the University of Sydney examining what causes pain, how pain works and how we develop non-addictive treatments for human pain
Myth-busting: urine or vinegar? Are jellyfish immortal? Do they have brains? Is the box jellyfish the deadliest of them all?
Learning more about the jellyfish's evolutionary tale plus a Q&A with Laura, Patrick and Greg
Event details:
Due to an overwhelming response we have created a FINAL release of tickets
Final Release Tickets: 

Price: $40 standing tickets 

First Release Tickets : SOLD OUT!

Price: $20 standing tickets / $25 seated tickets

Tickets include one alcoholic beverage (soft drink for under 18) and nibbles
Full access to SEA LIFE Sydney Aquarium after-dark: From 6pm
The Jellyfish presentations will run from 6:45pm - 7.45pm (If guests arrive after 6.30pm, they will be directed straight to the Reef Theatre)
All proceeds from the event will go towards the SEA LIFE Trust - a charity that works globally to protect the world's oceans and the amazing marine life that lives within them. The SEA LIFE TRUST's vision is of a world where our seas are healthy, protected and full of diverse life.