Pig the Dugong predicts State of Origin game two winner
Thursday 12th November 2020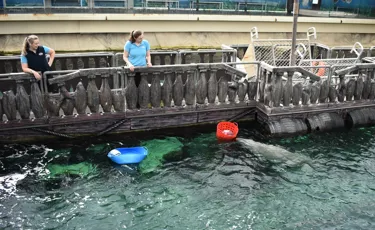 Pig the beloved rescue Dugong at SEA LIFE Sydney Aquarium disappointed his Sydney-raised Aquarists this morning by predicting Queensland Maroons to win tonight's State of Origin match against the New South Wales Blues.
Aquarists placed two State of Origin footballs inside his favourite toys (one with a Maroons logo and one with the Blues) and tossed them into his oceanarium, giving him the choice between the two teams. The fortune-telling marine mammal used his trunk-like snout to momentarily sniff out the competition before snubbing the NSW team in favour of the Sunshine State.
Dayna Plater, who held the prediction along with fellow Aquarists on the aquarium's Dugong Island, said Pig didn't hesitate in his prediction but believes it may be a little bias.
"Being a Dugong, they are generally found up around Queensland and on the Great Barrier Reef. He was found as a rescue up there, so that's where his story began and I believe that may have swayed his decision slightly," laughed Dayna.
"We'll just have to wait and see just how accurate his fortune-telling skills are."
Stop by SEA LIFE Sydney Aquarium and visit Pig the Dugong Thursday to Monday between 10am and 4pm (last entry at 3pm).