Earth Day at SEA LIFE Sydney
Monday 20th April 2020
Earth Day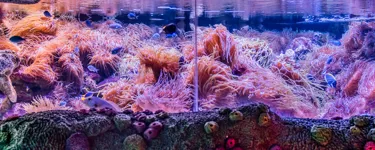 For the first time ever you will be able to be a part of our magical underwater world and join our marine life whenever and wherever your heart desires! Yes that's right - 24 hours of non-stop underwater streaming - launched to celebrate Earth Day 2020!
From watching Myrtle the rescue turtle and her fellow turtle friends Dave and Chong gracefully swim about to being witness to the critically endangered sawfish, Maori Wrasse and schools of tropical fish spending their day feeding and frolicking, the attraction has you covered night and day for non-stop marine entertainment.
And whilst you are enjoying a front row seat to the 24-hour access to hundreds of beautiful underwater sea creatures, there are also some amazing, educational ways for people of all ages to learn about the importance of Earth Day 2020, which this year is focused on all things Climate Action.
In honour of this Climate Action theme, we have turned Earth Day into Earth Week, focusing on life-support systems such as coral reefs - in particular the Great Barrier Reef - that make our underwater world habitable.
Learn about the importance of Coral Reefs from your home this Earth Day with our LIVE stream! 
We will be hosting a Coral Reef themed live stream on 22nd April (Earth Day) in their Coral Cove Garden display, featuring a Q+A with the team giving expert insight into reefs and reef eco systems including;
The importance of reefs as life support systems for the ocean (tying in with Earth's Day focus on life support systems)
The threats reef face including climate change and coral bleaching
How the public can make a difference in climate change
Additionally, an educational activity resource is available for kids to explore these themes further, which you can find here
Richard Dilly, our General Manager is excited to be sharing a part of the attraction live to guests around the world and said, "As one of the seven wonders of the natural world, the Great Barrier Reef is on the bucket list for many Australians, so it made sense to give them 24-hour access to the largest Great Barrier Reef exhibit in the world.
Additionally, I'm so very proud that our attraction is actively helping people understand the importance of Earth Day's theme of Climate Action this year, given education is key to ensuring the future of the life-support systems that make our underwater world healthy for future generations".
Earth Day is now considered the largest civic event held each year and was launched to leverage the emerging public consciousness about air and water pollution. It became a global movement in 1990 with 200 million people joining in across 141 countries.