New 'Aquarium After Dark' Experience
Monday 17th February 2020
Sharks, Events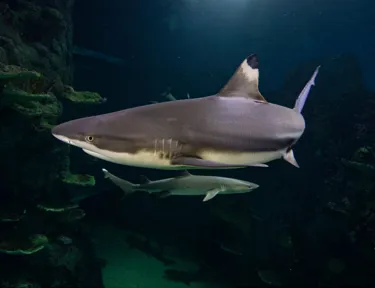 Whether you love them, fear them or are intrigued by them, you can't deny that sharks are majestic animals. They have roamed the world's oceans for hundreds of millions of years, appearing in the fossil record before trees even existed and they've outlived dinosaurs! As apex predators, sharks play an important role in the ecosystem by maintaining the species below them in the food chain and serving as an indicator for ocean health. Sharks keep the balance with competitors which helps ensure species diversity.
Sadly, many species of sharks are threatened with extinction and some families of rays such as the Sawfish are in peril.
For one night only on Wednesday 26th February, SEA LIFE Sydney Aquarium together with Barbara Wueringer, founder, director and lead scientist of Sharks And Rays Australia (SARA), Emmy nominated underwater cinematographer, Jon Shaw and Associate Professor and Shark Expert, Adam Stow will host an evening of Shark Discovery.
Guests will witness an exciting nocturnal feed that will see the Green Sea Turtles, Black and White Tip Reef Sharks and Sawfish at their liveliest as well as panel discussion with shark experts covering topics such as Australian's attitudes towards sharks, fear, perceptions in the media and the future of our oceans.
Event details:
Wednesday 26th February
Price: $65 per ticket
Time: 6pm - 8:30-pm
Full access to SEA LIFE Sydney Aquarium after-dark: From 6pm
The event will take place in the Day and Night on the Reef exhibit from 7pm - 8pm
Followed by a thrilling nocturnal feed of the Turtles, Reef Sharks and Sawfish from 8pm
Tickets include one alcoholic beverage (soft drink for under 18)
PLUS! $10 from each ticket sale will go towards SEA LIFE Trust and Sharks And Rays Australia (SARA)
SPEAKER BIOGRAPHIES
Biography Barbara E. Wueringer PhD
Barbara is the founder, director and lead scientist of Sharks And Rays Australia (www.saw.fish). She is a zoologist specialized on the behaviour, sensory ecology and biology of elasmobranch fishes. Barbara first fell in love with sharks when she volunteered at the Bimini Biological Field Station, Bahamas. For her Masters she worked on the sensory biology of two species of shovelnose ray. This work got her interested in the shark like rays, which include sawfish. Barbara received her PhD from the University of Queensland, for a project on the sensory ecology and feeding behaviour of freshwater elasmobranchs of northern Queensland, Australia, including sawfish, speartooth sharks and giant freshwater stingrays.
Throughout her 15-year scientific career, Barbara has acquired knowledge on capturing, tagging and releasing large elasmobranchs including lemon sharks, tiger sharks and sawfish, and on morphological and behavioural methods to identify the sensory adaptations of large fishes.
Over the last five years, Barbara has lead close to 30 expeditions to the remote parts of Far North Queensland, the country adjacent to the Gulf of Carpentaria and the Cape York region, where SARA conducts research on sawfish and other sharks and rays. The realisation that in these remote areas a future for sawfish cannot be secured if locals are not involved in the process, has led her to set up collaborations with local Aboriginal communities, their schools and Aboriginal Land and Sea Ranger groups. Barbara also works closely with commercial net fishers, and joins them in the field. Her research has resulted in peer reviewed high impact publications and has been featured multiple times in international media, such as BBC, National Geographic, New York Times, Science Magazine, Cosmos Magazine, ABC, and Discovery Magazine.
Jon Shaw
Three time AACTA awarding winning and Emmy nominated cinematographer Jon Shaw, founder of ginclearfilm, specialises in underwater cinematography and has had a passion for the ocean and environment from an early age.  From his beginnings as a marine biologist and commercial diver, Jon has developed an enviable career travelling the world to film astonishing wildlife both above and below the ocean's surface. Jon is passionate about arresting the perils that face the ongoing sustainability of the world's oceans. "Coral bleaching, dwindling shark numbers and the outcome of today's overuse and disposal of plastics in our environment are issues I witness repeatedly through my work.  I want to be able to take those issues to the people through film", Jon Shaw said.
Jon's love for using the most advanced filming technology allows the audience a seemingly real-life glance into the environments he captures on film.
Jon is a full accredited member of Australian Cinematographers Society (member).
Associate Professor Adam Stow
Adam Stow is a conservation biologist and behavioural ecologist who uses genetic and field based techniques to evaluate animal dispersal and gene flow in natural systems and to assess the impacts of human activities. In the marine environment, Adam has focussed on sharks, including those of critical conservation significance and commercially exploited species. Adam's work has been largely carried out by higher degree research students under his supervision and has included a long standing program on grey nurse shark genetics, whaler species and gummy sharks. Adam's overarching goal is to provide information useful for conservation managers.