Experience Shark Dive Xtreme
Tuesday 8th December 2015
Sharks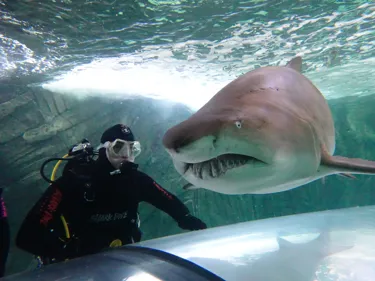 Calling all ocean lovers and adventure addicts! Manly SEA LIFE Sanctuary is located by one of Sydney's best beaches, Manly Beach, and is home to Shark Dive Xtreme. Shark Dive Xtreme is your chance to scuba dive with massive Grey Nurse Sharks, cheeky sea turtles and smooth rays without the safety of a cage and is one of only a few experiences worldwide where you're guaranteed an underwater encounter with sharks.
Take your chance to dive with sharks in Sydney as Manly SEA LIFE Sanctuary's experienced divers take you on a 2.5 hour journey starting with a tour of the massive Shark Tunnel. You'll then have a scuba diving tutorial where our experienced divers will teach you everything you need to know - no previous diving experience is required. Then, you'll take the plunge with a 30 minute dive in Manly SEA LIFE Sanctuary's 4 million litre oceanarium and meet our fishy residents.
Make the experience even more extreme with Shark Feed Xtreme. Shark Feed Xtreme is a must-do Sydney experience which provides an incredible once-in-a-lifetime opportunity to have front row seats while our sharks, stingrays, turtles and fish are hand-fed by our experienced staff. Shark Feed Xtreme is suitable for first time divers, as well as being an amazing thrill for experienced divers.