Sydney's most colourful new exhibit is here for Summer!
Friday 30th November 2018
Sydney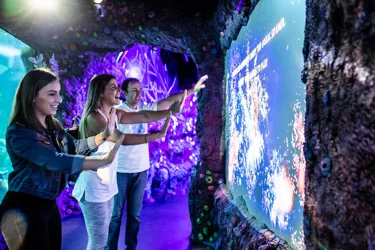 That's right - you can now experience one of the seven wonders of the natural world in Sydney, at SEA LIFE Sydney Aquarium's new interactive experience, Day and Night on the Reef, which is now officially the world's largest Great Barrier Reef display - pretty cool, hey!?
Embark on a journey of magical discovery that gives you a rare opportunity to see the reef transform from dusk to dawn.
Enter the reef underneath a timber jetty where you'll see sunlight beaming through and hear the sounds of seabirds, wind and waves, before the light darkens and you enter the forest of illuminated jellies that swarm on the edge of the reef. Stick your head in the pop up tank to see what it feels like to be surrounded by jellyfish, without the fear of getting stung!
Move deeper into the night as you land on Bioluminescent Beach under the moonlight. Watch the phenomenon of bioluminescence as waves roll out of the wall and see glowing splashes underfoot as you walk through them in this extraordinary interactive simulation.            
In the depths of the night you will find the predators that live deep in the reef as you explore the glowing corals. Watch out for sharks jumping out at you!
Head towards the sunrise and witness the annual event of coral spawning. Interact with this rare event through sensors that will detect your moving hands as you help to blast coral spawn into the water.
As the sun begins to rise you will walk through a glass tunnel and have 360 views of the Oceanarium and see amazing sea creatures such as Green Sea Turtles, Loggerhead Turtles, Reef Sharks, Sawfish and many, many tropical fish swimming all around you. How many different sea creatures you can spot?
Learn a very important lesson on conservation and how fragile the reef is from the impact of coral bleaching, by seeing a time-lapse capturing the potential growth over time.
.
Finally, you will end your journey on turtle beach where you will see a state-of-the art projection map, showcase the life cycle of a turtle. Meet a mother turtle and watch her rise out of the ocean, build a nest on the beach and lay her eggs. As you wait for the turtles to hatch, help stomp out the litter that has washed up on the beach, helping the turtle hatchlings make it safely to the water. Make sure you then turn around and witness the giant wave frozen in time that frames the spectacular reef theatre and snap the perfect #discoverthereef Instagram
Day and Night on the Reef is a spectacular sensory experience that is sure to delight the whole family!