Penguin Expedition's Tank Fill
Friday 9th September 2016
Penguins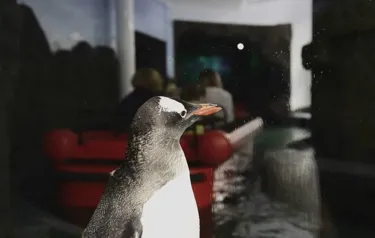 The taps have been turned on at SEA LIFE Sydney Aquarium to fill the tanks of world-first penguin exhibit with a ride!
This week we've turned heads (and taps) as installation of the boats and our colossal tank-fill for Penguin Expedition has begun! Penguin Expedition will be a world-first penguin exhibit with a ride taking explorers on an immersive journey through a spectacular display of King and Gentoo penguins.  
The turning on of the taps for the tank, soon to be splash pool for our oh-so-coooooooooool penguins arriving from sister attraction Melbourne SEA LIFE Aquarium marks a momentous milestone in this $9 million investment.
The tanks can hold up to a whopping 143,000 litres of water and will take an incredible 14 hours to fill! Water temperatures are currently at the 15-20 degrees Celsius mark and this will be chilled right down to 9 degrees to accommodate for the Antarctic birds.
Penguin Expedition will be opening this November 2016 just in time for summer and is included in the cost of admissions!