Get Closer with a Penguin Encounter
Monday 20th November 2023
Penguins, Sea Life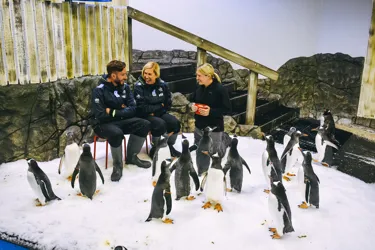 The Penguin Encounter is your ticket to a once-in-a-lifetime encounter with SEA LIFE Sydney Aquarium's sub-Antarctic penguin colony.
 
Suited up in your sub-Antarctic snow gear, the exclusive 45-minute tour takes you onto an icy wonderland where majestic King and cheeky Gentoo penguins waddle, hop, slip and slide along the ice right in front of you. 
 
Participants will also have the opportunity to go behind-the-scenes to see the penguin food preparation area as well as how this state-of-the-art exhibit maintains its chilly temperatures.
AVAILABLE TOUR TIMES
Available daily until sold out.
TERMS & CONDITIONS 
No children under the age of 14
Children under 18 must be accompanied by a parent or guardian
No contact with other birds 24 hours prior to visit
No gastro/flu/cold/respiratory symptoms within the last 48 hours of tour
Participant must be physically fit and able to walk up and down stairs and around the icy terrain
Participants must not have any open cuts or wounds
Participant must not have any pre-existing knee, pelvic or back injuries
Jewellery and any other loose items are not permitted
Cameras are not permitted
Mobile phones are only permitted with a mobile phone pouch, which is available to hire on the day for $10 (Pouch dimensions: 18cm x 9cm)
Participants must wear all safety clothing provided
Participants must be able to understand and speak English as translators will not be provided
Experience may be cancelled at short notice due to husbandry requirements
Participant must bring their own socks, and not be wearing a dress or skirt
Participants must follow instructions of Penguin Trainers at all times
The experience will be terminated at any point if instructions are not followed.