Giant Crabs Invade Sydney!
Wednesday 19th October 2011
Sydney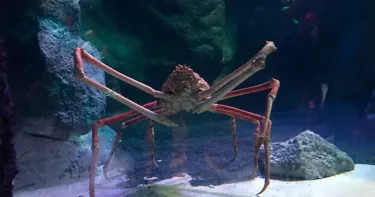 Meet Miso and Sake, the newest additions to Sydney Aquarium's CLAWS Creature Feature.
The two Japanese Spider Crabs have moved in and have made themselves comfortable dominating the largest clawed tank in the new exhibit.
While our 2 Japanese Spider Crabs are not yet fully grown, currently weighing in at around 4 kilograms, they can get up to a huge 20 kilograms as adults! Japanese Spider Crabs have round bodies, with very long legs, that can grow as long as 4 metres from tip to tip!
Miso and Sake had quite an adventure to get here as in the wild they are mainly found off the southern coast of the Japanese Island, Honshu. While they were making their way across the ocean and though Australian Quarantine, Bruce, our MASSIVE Tasmanian Giant Crab was holding the fort.
Bruce has since moved tanks, but is still a spectacular sight as Australia's largest crab, weighing a massive 10 kilograms and with a claw you just have to see with your own eyes to believe.
Don't miss these Crusty Creatures of the Deep!
Book Now