Look at what's turned up at Martin Place!
Wednesday 23rd January 2019
Turtle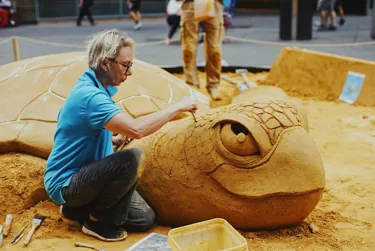 Sydneysiders, visitors to the city and Instagrammers, brace yourselves! A giant sand turtle is being sculpted in Sydney's CBD, using 10 tonnes of sand. But that's not it… it's going to glow in the dark!
Built by three sculptors over a total of 20 hours, the giant turtle will stand at 4.5m (L) x3m (W) x1.5m (H). Inspired by Myrtle the much loved rescue turtle who resides at SEA LIFE Sydney's newest $5 million dollar exhibit - Day and Night on the Reef, commuters and the public can watch the impressive sculpture come to life over two and a half days. The luminescent glow will showcase the night element of the interactive new exhibit at the Darling Harbour aquarium which takes guests on a journey through the mysterious Great Barrier Reef after nightfall, including an interactive bioluminescent beach and the rare phenomenon of coral spawning.
Worldwide, six of the seven sea turtle species are classified as threatened or endangered due to human actions and lifestyles. SEA LIFE's giant sea turtle will act as an ambassador for all sea turtles to help raise awareness of the threats they face and the ways in which we can help protect the species into the future.
Richard Dilly, SEA LIFE Sydney's General Manager says, "We're so fortunate in Australia to have some of the most beautiful beaches in the world, but sadly plastic pollution and threats including fishing nets are still a major issue for endangered animals, including turtles. I was saddened to hear that a study found that 9000 of the ghost nets found on beaches across Australia had likely resulted in the death of between 4866 and 14600 turtles[1].
"Turtle conservation is at the heart of SEA LIFE Sydney Aquarium and we are committed to marine conservation projects through our Breed, Rescue and Protect initiatives. My hope is that the striking giant turtle will be a reminder to the public that we need to change our habits if we want to protect these turtles. I'm also pleased that we are able to share Myrtle the turtle's story - a very special Green Sea turtle here at SEA LIFE Sydney Aquarium. We rescued her over five years ago and due to her buoyancy issues after a boat strike, we have attached three metal plates which allow her to swim with ease."
The giant sand sculpture is a fun reminder of the new exhibit Day and Night on the Reef that recently opened at SEA LIFE Sydney and takes guests on the 24 hour journey of what happens on the Great Barrier Reef. While the craftsmanship is impressive, the glow in the dark element, -made with an eco-friendly glowing substance - will help light up the city on Thursday night and no doubt delight visitors to Martin Place.
SEA LIFE Aquariums around Australia and New Zealand, together with their charity arm, the SEA LIFE Trust, have rescued, rehabilitated and released hundreds of turtles over the years. On the ground, the team will also be raising money for turtle conservation initiatives to help protect the future of turtle populations both across Australia and internationally.
STUDY:
Understanding the sources and effects of abandoned, lost, and discarded fishing gear on marine turtles in northern Australia
Chris Wilcox, Grace Heathcote, Jennifer Goldberg, Riki Gunn, David Peel - Britta Denise Hardesty | First published: 07 August 2014