A Critically Endangered Grey Nurse Shark has been successfully relocated from Lake Conjola in NSW
Thursday 19th December 2019
Sharks, Conservation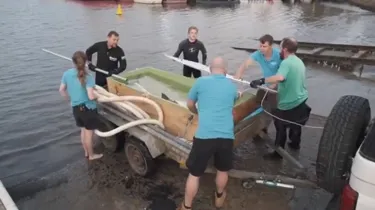 This week, a Critically Endangered, female, Grey Nurse Shark has successfully been relocated from Lake Conjola in NSW and safely released into the waters off Ulladulla Harbour.
The meticulous relocation was led by Marcel Green, the NSW Department of Primary Industries (DPI) Program Leader Shark Strategy & Threatened Species together with the team from SEA LIFE Sydney Aquarium after weeks of planning and preparation.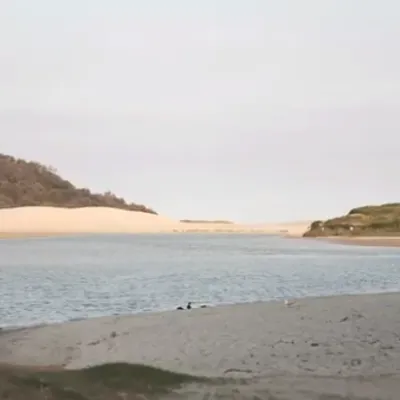 Chris Brown, Head of Curatorial at SEA LIFE Sydney Aquarium commented, "We were informed by the DPI that a Grey Nurse Shark had been isolated in Lake Conjola and with dropping water levels, increasing water temperatures plus the school holidays fast approaching, we were becoming concerned for the shark's welfare and wanted to move quickly.
"I'm absolutely delighted by the result of the rescue and relocation this week. After months of planning, it was incredibly rewarding to successfully transport the shark in our custom-made shark transport tank and then watch the shark as she safely swam into the waters off Ulladulla. Marcel led a flawless operation and I am incredibly proud of the SEA LIFE Sydney team for their dedication to this important relocation operation.
"Grey Nurse Sharks are Critically Endangered on the East Coast of Australia so it was particularly important to us that we released the shark back into the wild in the hope that it continues to breed and support the recovery of the species," added Mr Brown.
DPI Program Leader Shark Strategy & Threatened Species, Marcel Green commented, "We deployed SMART drumlines from a DPI vessel near the southern boat ramp in Lake Conjola.
"The shark was quickly caught and transported by road to Ulladulla in a custom-built shark transfer crate supplied and managed by SEA LIFE Sydney Aquarium. The shark was then carried out in a trawler from Ulladulla Harbour and safely released offshore.
"The success of this operation relied on careful planning with the SEA LIFE Sydney Aquarium and the drumline contractor working with DPI Fisheries," added Mr Green.
In October 2019, SEA LIFE Sydney Aquarium were approved a DPI permit that allows the team to undertake rescues of Grey Nurse Sharks in specified waters of NSW.
If you spot an injured or struggling shark in the wild, please contact the DPI Fisheries or SEA LIFE Sydney Aquarium on 0409 109 198.