Halloween Pumpkin Hunt
Monday 26th October 2020
Halloween, Events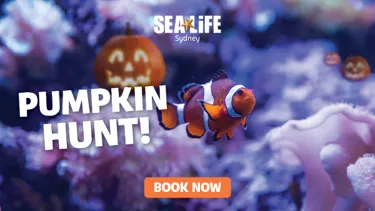 It's spooky SEA-son!
This Halloween dive into SEA LIFE Sydney Aquarium and celebrate your spooky SEAson under the sea!
Meet some of our creepy creatures such as the Hagfish and the Moray Eel. Did you know Moray Eels have a double jaw – this helps them look extra spooky as well as making it easy for them to snap up wriggly prey as it swims past.  
While you are having a spooky stare off with the eel, keep a third eye out for our 5 hidden jack-o-lanterns throughout the attraction. Make sure to look deep into the tanks, some of them might be a little trick-or-treaty to spot!
Halloween pumpkins will be hidden this Saturday, 31st October. We are open 10am - 4pm (last entry 3pm). Book tickets and time slots for your visit online now
Want more deep-sea Halloween fun? Check out our Facebook & Instagram this Halloween week for some hair-raising creatures.