Holiday Heroes Swoop in to Save Kids from Lockdown Boredom These School Holidays
Tuesday 14th September 2021
school holidays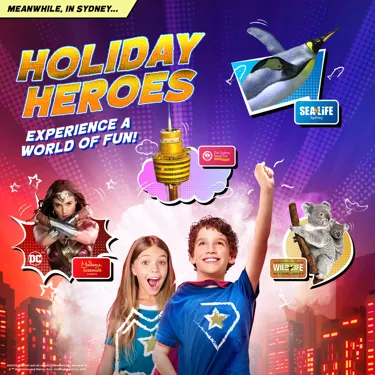 If you're a parent in lockdown, there's a good chance that you're juggling home-schooling, working from home, AND soon enough, you'll have to entertain the kids during the school holidays. Merlin Entertainments is here to the rescue these school holidays, with the launch of Holiday Heroes Hub, the ultimate superhero school holiday online destination to save the day these school holidays!
Is it a bird? Is it a plane? No, it's Holiday Heroes! Every day throughout the September holidays, let the Holiday Heroes Hub knock out boredom with a range of activities to keep the kids entertained, and out of your hair!
While you're busy being Wonder Women or Super Dad, let us save the day! The kids will be entertained with:
Virtual visits to Australia's most iconic animal attractions through live streams from SEA LIFE Aquariums and WILD LIFE Sydney Zoo
Live LEGO® building workshops from LEGOLAND® Discovery Centre Melbourne and MUCH MORE!
Superhero challenges and craft activities from Madame Tussauds Sydney
Learn about Sydney Tower Eye's super strength and how it protects the city of Sydney
The Holiday Heroes Hub offers a range of live sessions and activities that have been expertly curated by Merlin Entertainments' superhero Curatorial and Education teams to appeal to kids of all ages.
All content on the Holiday Heroes Hub is created with inquisitive little superheroes in mind and is downloadable here: https://www.merlinannualpass.com.au/holiday-heroes/ 
The Hub will be updated regularly to ensure the content is new, exciting, and relevant!
To kick off the launch, WILD LIFE Sydney Zoo, SEA LIFE Sydney Aquarium, and Madame Tussauds Sydney will host LIVE SESSIONS:
Saturday 18 September at 4pm – Madame Tussauds Sydney has teamed up with Warner Bros. Themed Entertainment to celebrate Batman Day with a virtual Batman Day Trivia Event with lots of prizes to be won! Pre-register for the event here: https://www.madametussauds.com/sydney/whats-inside/batman-trivia-batman-day/
 Wednesday 22 September at 2pm – WILD LIFE Sydney Zoo Keepers will introduce you to our tough Tasmanian Devils. Meet the sisters, Dharra and Mirrin, as you watch the keepers feed them and then engage in a game tug of war. Which Tasmanian Devil will win? Tune in here: https://www.facebook.com/wildlifesydney/
Thursday 23 September at 10am – SEA LIFE Sydney Aquarium will introduce you to magnificent Eagle Rays as they soar through the oceanarium. Our Aquarists will teach you all about their 'super powers' and take you up close as you watch them get fed. Tune in here: https://www.facebook.com/sydneyaquarium/
For more information on the Holiday Heroes Hub, see here: https://www.merlinannualpass.com.au/holiday-heroes/
Add more KAPOW to the school holidays and follow our social media channels to stay up to date with the latest Holiday Heroes activities, shared every day at 10am and 2pm.
SEA LIFE Sydney Aquarium
Facebook @SEALIFESydneyAquarium
Instagram @SeaLifeSydneyAquarium
WILD LIFE Sydney Zoo
Facebook @WILDLIFESydneyZoo
Instagram @WildLifeSydneyZoo
Sydney Tower Eye
Facebook: @SydneyTowerEye
Instagram: @SydneyTowerEye
Madame Tussauds Sydney
Facebook @MadameTussaudsSydney
Instagram @TussaudsSydney
LEGOLAND Discovery Centre Melbourne
Facebook: @LEGOLANDDiscoveryCentreMelbourne
Instagram: @LegolandDiscoveryCentreMelbourne
SEA LIFE Melbourne Aquarium
Facebook: @SeaLifeMelbourneAquarium
Instagram: @SeaLifeMelbourneAquarium