Penguin Match-Making Service at SEA LIFE Sydney
Friday 10th June 2022
Penguins, Sea Life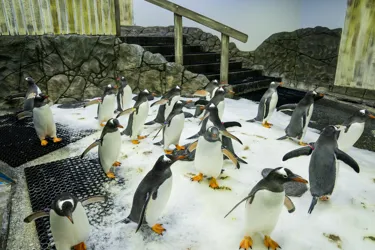 Four new King Penguins and eight new Gentoo Penguins welcomed into Sea Life's pre-existing colony. 
SEA LIFE Sydney Aquarium has successfully integrated four new King Penguins and eight new Gentoo Penguins into their Sub-Antarctic penguin colony, from SEA LIFE Melbourne Aquarium.
Part of a wider population management and breeding program with three other Zoo and Aquarium Association (ZAA) institutions across ANZ, they were carefully selected as being genetically viable, the right age and size for breeding with the existing colonies of seven Kings and 35 Gentoos, in their new inter-state home.
"It was a really great introduction and it looks like all our new penguins are keen to make some new friends. Penguins are so social and it's their main goal to be with other penguins. We're hoping to see a few romantic partnerships blossom and our breeding program thrive" said SEA LIFE Sydney Aquarium Penguin Supervision, Laetitia Hannan.
"I'd really like to see Charlie, our young Gentoo Female, partner up with Chips, one of our new male Gentoos" Hannan joked.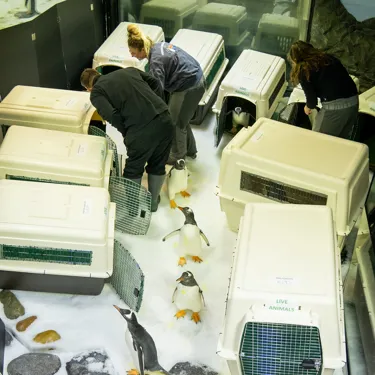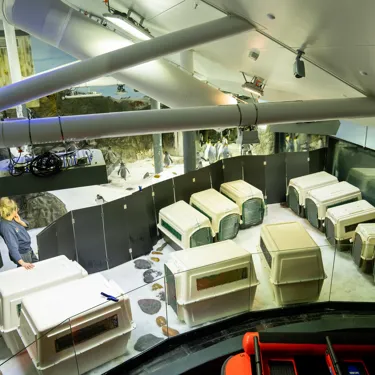 How exactly does one pack a penguin? The first penguin transfer in 6 years, the team of 15 Aquarists had everything perfectly planned.
Each penguin was carefully housed in a large crate, which they are trained to voluntarily step inside, and transported in a giant freezer truck, in convoy by with veterinary and the Head Penguin Keeper from SEA LIFE Melbourne Aquarium, Nicola Saville.
With King Penguins being the second largest penguin species in the world at up to 1m tall, weighing around 15kg, and Gentoos reaching up to 70cms tall and weighing around 6kg, the crates, similar to travel dog kennels, were extra-large, decked out with AstroTurf for comfort and grip.
After a visual heath check upon arrival, the new colony was taken straight onto the ice to settle and feed, spending the night in a cornered off area, to get used to their new surroundings, prior to meeting the existing colony and exploring the next morning.  
"It's been great to see each of our new Gentoo penguins has already been for a swim, successfully navigating in, out and through their new waters." rejoiced Hannan, an hour after the integration.
"Our King Penguins are yet to take their first swim, which is very normal for them to take a few more days to settle down. They are most interested in building new bond with the existing King Penguins and we look forward to seeing what the next few days bring for them."
To meet our King and Gentoo Sub-Antarctic penguin colony on the newly re-opened Penguin Expedition Boat ride and to learn more about our breeding, rescue and release and conservation programs, come and visit the passionate teams at SEA LIFE Sydney Aquarium and SEA LIFE Melbourne Aquarium.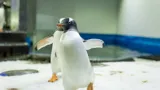 General Admission
Online From
$40.80
Per Adult
Price includes Digi Photo Pass with 8 digital photos included – valued at $26!
Get your ticket on your phone

| | | | |
| --- | --- | --- | --- |
| Ticket Type | Price on the day/School Holidays/Weekends | SAVE 20% - Pre-book online in advance on weekdays | High-demand pricing |
| Adult | From $51 | From $40.80 | $53 |
| Child (3-15 yrs) | From $38 | From $30.40 | $40 |
| Student or Senior* | From $41 | From $32.80 | $43 |
| Child (0-2 yrs) | FREE | FREE | FREE |

 

*All concession holders must have a valid concession/student/health care card to gain access to the attraction with a Student/Senior ticket.

Please note: Our ticket pricing is subject to available capacity and prices may fluctuate during periods of high demand.

Guarantee entry by booking online