Introducing SAWS and CLAWS!
Wednesday 7th December 2011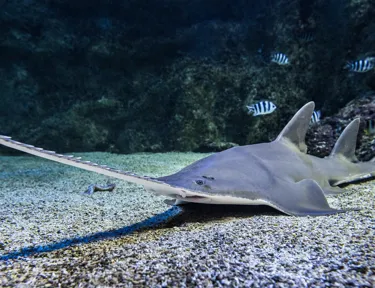 4 critically endangered Smalltooth Sawfish have arrived at Sydney Aquarium, just in time for the Summer school holidays.
Together with our other recent arrivals, 2 HUGE Japanese Spider Crabs, they form our latest joint creature feature: SAWS and CLAWS!
The Smalltooth Sawfish will take up residence in our massive Great Barrier Reef exhibit - the world's largest Great Barrier Reef-themed tank, containing around 2 million litres of water - amongst tropical reef sharks and vibrantly-coloured tropical fish.
The sawfish are a sight to be seen - measuring between 1.6 and 2.7 metres in length, these evolutionary marvels have adapted to live in both salt and fresh water, while their long saw-like rostrum (nose) has evolved to expertly forage for food under the sandy, silty ocean floor. Incredibly, this species can grow up to a staggering 7.6 metres in length!
Visitors to Sydney Aquarium over the Christmas school holidays will have the opportunity to check out the sawfish being fed, and swimming around in their new habitat as well as learn about the importance of the species' conservation.
The sawfish's critically-endangered status is largely a result of human impact and habitat destruction. Sydney Aquarium in conjunction with the Sydney Aquarium Conservation Fund will assist in raising awareness and educating Sydney-siders about the importance of living consciously and preserving our astoundingly unique marine life.
Sydney Aquarium General Manager, Jade McKellar, commented: "In addition to our dugongs, shark feeds and famous underwater viewing tunnels, the arrival of the Smalltooth Sawfish makes Sydney Aquarium a must-visit attraction for families these school holidays."
'SAWS' will join Sydney Aquarium's other new exhibit - CLAWS -  featuring Japanese Spider Crabs with their long spindly legs that can span up to 3.8 metres and bodies that can weigh up to 20kgs, as well as other crustaceans of the deep including Bruce, the Giant Tasmanian Crab.
Sydney Aquarium Opening Hours: 9am - 8pm daily.