Jurassic Seas Unearthed at Bondi Beach
Tuesday 17th November 2015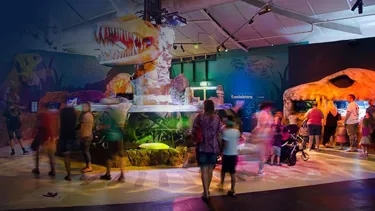 High tides at Bondi Beach have led to the unearthing of some long-buried fossilised remains* of a large marine reptile, believed to have once belonged to a 14 metre-long plesiosaur.
The giant fossil was identified as the skull of a plesiosaur*, which was the largest marine reptile during the Jurassic Period, 200 to 145 million years ago. Thought to be two or three times the length of a shark and armed with razor-sharp teeth, these ancient marine predators were easily identified by their barrel-like body, long neck, typically long tail and small head.
The discovery* unearthed on Bondi Beach is part of the all new Jurassic Seas experience at SEA LIFE Sydney Aquarium, which will transport guests millions of years back to prehistoric times. Launching 1 December, visitors will be able to come face-to-face with the fossil discovery* in the new exhibit, as well as meet some of the fascinating prehistoric creatures that have outlasted dinosaurs.
Steve Hinks, General Manager, SEA LIFE Sydney Aquarium said, "We are so excited that the fossilised remains* of the ancient plesiosoaur found at Bondi Beach today have been safely transported back to SEA LIFE Sydney Aquarium."
"A labour of love for the past threemonths, we're extremely proud to soon unveil this brand new experience that will allow visitors to go back to Jurassic times, when fearsome sea monsters prowled the oceans and dinosaurs roamed the Earth," continued Mr Hinks.
In the coming weeks, SEA LIFE Sydney Aquarium will be heralded as the only attraction in NSW where guests can get up close and personal with three of the oldest marine creatures known to man - the chambered nautilus, hagfish and lungfish, which have a combined age of 1.2 billion years.
Adding to Darling Harbour attraction's all-new prehistoric experience, Jurassic Seas will also bring the ocean's most terrifying dinosaurs back to life with the extraordinary use of cutting edge digital technology. Visitors to the attraction will have a once-in-lifetime opportunity to feed the digital plesiosaurus, marvel at the giant teeth of the megalodonand test their bravery in the face of an angry liopleurodon.
Opening just in time for the summer school holidays, SEA LIFE Sydney Aquarium's Jurassic Seas experiencewill further educate guests about the evolution of some of the most mysterious sea creatures that ever lived. The all-new exhibit will also highlight important conservation issues surrounding our ancient marine life, with its newest creature arrival, the chambered nautilus, facing loss of numbers and even extinction due to human impact, such as overexploitation and loss of habitat, despite having survived 500 million years already.
Currently home to an incredible 13,000 animals, SEA LIFE Sydney Aquarium has the world's largest variety of sharks and rays. From the freshwater rivers of the south to the tropical waters of the north, a trip to SEA LIFE Sydney Aquarium takes you around Australia's coastline, out into its oceans and up into its waterways - all without leaving the city!
*This giant fossil is a replica and did not come from the Jurassic period or a marine reptile.