LEGO City Deep Sea Explorer launches in Sydney for school holidays
Wednesday 23rd September 2015
Events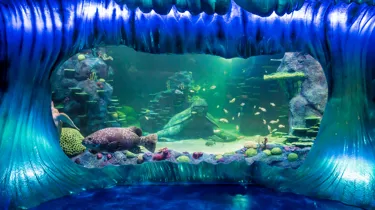 This event has now ended. 
Today, surrounded by exotic marine life, SEA LIFE Sydney Aquarium divers took the plunge in the attraction's Dugong Island and Great Barrier Reef exhibits to celebrate the launch of the new LEGO® City Deep Sea Explorer range.

With the help of elegant Spotted Eaglerays, elusive Shovelnose rays and cheeky Sharkrays, divers installed large LEGO® models of oxygen tanks, flippers and goggles as part of the Darling Harbour attraction's new school holiday activity.

"We're thrilled to be teaming up with LEGO® ANZ these school holidays for the temporary LEGO® City Deep Sea Explorer activity here at SEA LIFE Sydney Aquarium, where visitors of all ages are encouraged to use their imagination and explore the amazing underwater world within our exhibits," said Steve Hinks, General Manager of SEA LIFE Sydney Aquarium.

"The activity also complements SEA LIFE Sydney Aquarium's 'amazing discovery' brand positioning and aims to further encourage children and families to discover new animals, habitats and conservation information," Hinks continued.

Made from thousands of LEGO® bricks, the temporary activity at SEA LIFE Sydney Aquarium features marine models including giant flippers, goggles, oxygen tanks, a radio, a wrench and even a camera.

SEA LIFE Sydney Aquarium is currently home to an incredible 13,000 animals, including the world's largest variety of sharks and rays. From the freshwater rivers of the south to the tropical waters of the north, a trip to SEA LIFE Sydney Aquarium takes you around Australia's coastline, out into its oceans and up into its waterways - all without leaving the city!
With over 14-themed zones to explore and educational BREED, RESCUE, PROTECT activities throughout the attraction, this must-see school holiday activity promises interactive fun for the whole family.