Light at the end of the tunnel
Friday 14th September 2012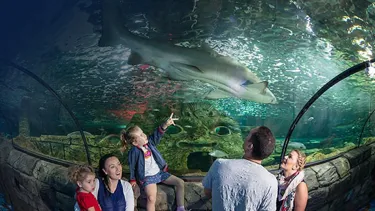 Today is an auspicious day - marking ten days until the launch of the new SEA LIFE Sydney Aquarium.
As the sun shines on the skeletal remains and stone temple ruins of our new oceanarium, Shark Valley, it looks a barren and desolate place. But in just ten days, it will be brimming with life as it becomes home to the largest variety of sharks and rays!
Shark Valley, a new 1.5 million litre ocean tunnel, is just one of 14 new zones launching on Monday week, 24th September.  The new SEA LIFE Sydney Aquarium will boast a range of unique Australian habitats - showcasing the aquatic life native to each - that will take you on a journey through our country's distinct freshwater and marine environments.
Prepare to march through Mangrove Swamps, explore the hidden wonders within a South Coast Shipwreck and marvel at the wondrous inhabitants of the idyllic Dugong Island, before journeying - if you dare - into the depths of Shark Valley.

Be the first to sea Sydney Aquarium as you've never seen it before, pre-book your tickets now and save.