Meet our Sea Turtles
Wednesday 15th April 2020
Turtle
Here at SEA LIFE Sydney we have 3 adorable Sea Turtles: Dave, Chong & Myrtle! 

Meet Myrtle 
Myrtle the turtle was rescued in 2013 after she was involved in a boating accident. She was nursed back to heath by the team at SEA LIFE Manly Sanctuary. She recovered from her wounds, but air became trapped under her shell as it healed, causing her to float. To keep her swimming happily our team fitted her with weight plates on the back of her shell. She now swims around with ease around our Day and Night on the Reef zone!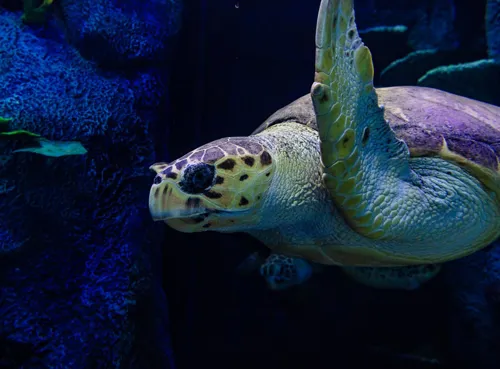 Meet Dave & Chong 
Dave and Chong are our resident turtle bromance! These big sea turtles are actually brothers and have grown up together here at SEA LIFE Sydney. They love to play together in their tank and can often been seen chasing each other all over the place. You can spot Dave and Chong in our Day and Night on the Reef zone!