Merry Christmas to All
Friday 20th December 2013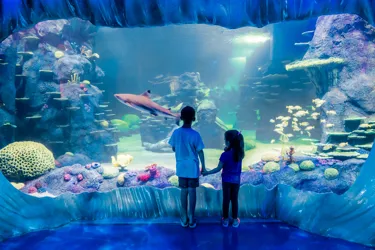 Christmas time at SEA LIFE Sydney Aquarium is a magical place. Pig and Wuru, our resident dugongs, can be seen with grins wider than usual, our penguins are busy decorating their newly renovated houses and even our usually shy platypuses decide to frolic around for the public.
So whilst everyone else is sitting down to eat their Christmas lunches, and the Australian cricket team prepares to continue their stranglehold of The Ashes, our fish will be waiting to entertain their latest batch of visitors.
Merry Christmas to All
SEA LIFE Sydney Aquarium is open on Christmas Day. And whilst our fish may be a little preoccupied during their very own Christmas feast, they are excited to see you! So if you are looking for something different this 25th December that the entire family can enjoy, why not come visit our beloved marine creatures and let them spread their Christmas cheer to you on this special day!
Changes to Christmas and New Year's Day Opening Hours:
25th December: 9am - 5pm (last entry 4pm)
31st December: 9am - 9pm (last entry 8pm)
All other days: 9am-8pm (last entry 7pm)