Myrtle the Green Sea Turtle
Wednesday 27th January 2021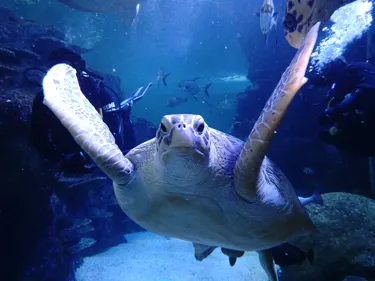 You will be missed!
It is with a heavy heart that the SEA LIFE Sydney Aquarium family advises of the passing of our beautiful rescue Green Sea Turtle, Myrtle on Monday 25 January 2021.
Myrtle was found unresponsive by the aquarium team as they conducted their early morning walkaround checks on Monday. The team acted swiftly by dispatching a group of divers to move her into a holding pool above the Day and Night on the Reef Zone to find that she had unfortunately already passed away.
Richard Dilly, SEA LIFE Sydney Aquarium's General Manager, said Myrtle was an important member of the aquarium's family and history and will be missed by all.
"This is a very sad day for the aquarium and especially for Myrtle's carers, many of whom played an integral role in her ongoing care" said Richard Dilly. "Myrtle came to us as a mature adult who had been previously rescued and rehabilitated but deemed unsuitable for release, and therefore became a permanent member of our aquarium's population."
Originally joining the SEA LIFE family in 2013, she and her carers subsequently relocated to SEA LIFE Sydney Aquarium in 2018 when Manly SEA LIFE Sanctuary closed its doors. Since her arrival in Sydney, she has delighted our visitors alongside our three other rescue sea turtles – Dave, Chong and Plugga.
Laura Simmons, SEA LIFE Sydney Aquarium Head Curator, said Myrtle was loved by the team for her friendly personality and insatiable appetite.
"Myrtle was a confident and enthusiastic turtle, who participated in training sessions and regularly interacted with our divers, giving them cheeky little nudges around the habitat," Laura Simmons said.
"She was regularly showered with affection by her carers who are now feeling the pain of their loss."