New Penguin Talks
Wednesday 23rd November 2016
Penguins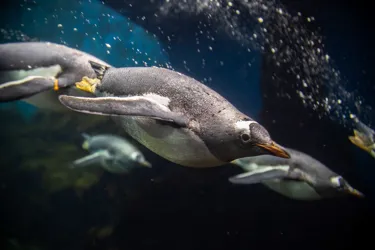 Ever wanted to know what a sub-Antarctic penguin eats for breakfast? Or ever wondered what life as a Gentoo penguin is like?
With an all-new experience comes new species of animals and best of all, expert trainer talks to provide you a little insight into the life of these majestic little birds. Waddle down to the all-new Penguin Expedition and watch as these curious penguins enjoy their morning feed.
But first...
Enter the world of sub-Antarctic penguins !
Inspired by Macquarie Island, an Australian owned island in the south west Pacific Ocean, this all-new experience allows you to hop on board the discovery raft where you will transported through the "cool" and be greeted by Sydney's first colony of sub-Antarctic penguins. This sensory journey through the penguins' home will provide you a rare opportunity to get up and personal with the attractions' newest creatures.
Amazing discoveries await as you disembark and explore the Macquarie Island conservation hut! 
Then continue on to our large viewing windows where you can admire your new friends and listen to our expert trainer talks. 
Available daily!
Learn how to tell the difference between a male and female Gentoo! And discover all about the penguin personalities that make up the SEA LIFE Sydney Aquarium penguin colony. Word is that one of the male penguins is a bit of a cheeky fellah and very much enjoys female attention...
And of course, for any penguin questions you may have, our dedicated penguin staff are here to answer them all!
So whether you're a penguin newbie or massive penguin fan, remember to join us for our daily talks and feeds!
Note: Talk times are subject to change without notice.