Josh crossed shark dive off his bucket list
Friday 15th November 2019
For 29 year old Joshua Murphy, diving with Sharks at SEA LIFE Sydney Aquarium is at the top of his Bucket List while he has a little vision left and yesterday this dream came true!
A lifelong dream came true for 29 year old Joshua Murphy from Wynn Vale, South Australia yesterday as he was given the opportunity to dive with sharks at SEA LIFE Sydney Aquarium. Josh suffers from a vision impairment called Retinitis Pigmentosa and with just one sixtieth of his sight left, he started a bucket list of activities that he wishes to experience while he still has a little vision left. At the top of the list is diving with Sharks at SEA LIFE Sydney's Shark Dive Xtreme experience.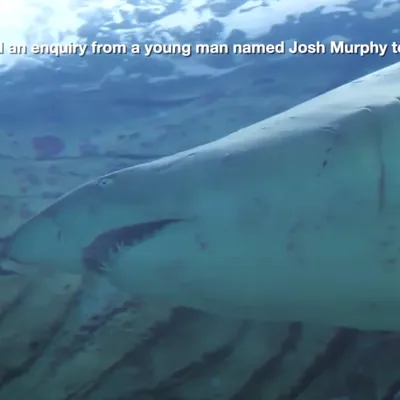 Speaking about the condition, Josh says, "Retinitis Pigmentosa is a degenerative condition that causes tunnel vision, light sensitivity, and will lead to eventual blindness."
Josh has had the condition since birth and while it has deteriorated over time, in the last couple of years he noticed a rapid decline in his vision. This sparked him to create a bucket list of activities he wants to experience while he has some vision left.
On diving with five Grey Nurse Sharks as well as Port Jackson and Wobbegong Sharks, Josh said: "It was fantastic, absolutely incredible. I could see and feel the sharks around me and I had an amazing time!
"One of the activities at the top of my list has always been to dive with sharks as I have always had a keen interest and great respect for them. They move elegantly through water and play a vital role in the ocean's ecosystem. I have had a dream of swimming with sharks since I was a small child and I'm so happy that my dream came true!" added Josh.
Under ordinary lighting Josh is able to see shapes - such a person's face or arm - but would not be able to see their full body.  Josh continued: "The reduced glare whilst underwater actually enables me to see more clearly because my eyes don't need to work as hard to adjust to changing light conditions. Thank you to the Shark Dive Xtreme team for making this wish come true."
Brett Fairhurst, Shark Dive Supervisor for SEA LIFE Sydney Aquarium's Shark Dive Xtreme (SDX) team, said, "When I received the email from Josh's mum, Zoe, I was pumped that we could help make Josh's dream come true and honoured that diving with the five beautiful Grey Nurse Sharks at SEA LIFE Sydney Aquarium was on his bucket list! We customised a special dive with signals that Josh would understand and we're so glad that he loved the experience, he was a great guest, remained calm and will hopefully inspire others to dive with our sharks too! This will be an experience the team will never forget."
SDX is an exhilarating experience and one of only a few experiences worldwide where divers are guaranteed an underwater encounter with sharks. With no previous diving experience required, SDX can make a daring diver out of anyone*, allowing guests the chance to meet and swim with five Grey Nurse Sharks and scuba dive with other Sydney local marine life - Port Jackson Sharks, Wobbegong Sharks and hundreds of other amazing sea creatures!