Baby Penguin Chick "Sphengic" Starts Swimming Lessons
Wednesday 9th January 2019
Penguins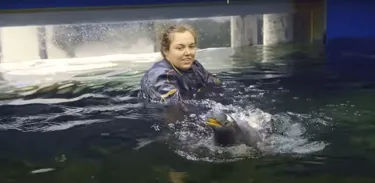 After capturing the hearts of the world in October 2018, our first sub-Antarctic penguin chick, fostered by same-sex couple Sphen and Magic, is off to a swimmingly good start to life, making a splash in its first aquatic lessons!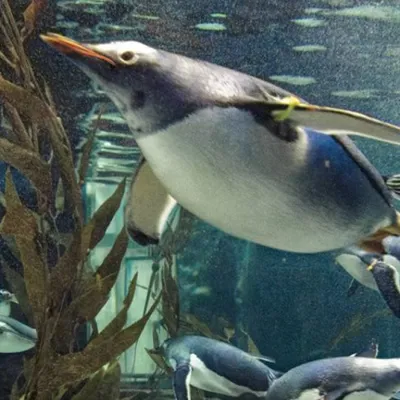 The Gentoo penguin baby, who is now three-months old, was given one of its routine health checks, with keepers checking its flippers, beak and weight before being given the all-clear to jump in for a swim with the assistance of Penguin Department Supervisor, Tish Hannan.  
"Gentoo penguins are known to be the fastest underwater swimming bird in the world," says Tish. "Baby Sphengic has just finished moulting its juvenile feathers, and has grown its first ever waterproof plumage, not wasting any time and diving right in to perfect the skill and live up to the species' reputation.   
"This is Baby Sphengic's third swimming lesson and the little chick has made amazing progress. One of the most important things when baby penguins are learning how to swim is for them to get used to having their heads underneath the water so that they can see." says Tish. "
"The chick was born at just 91 grams – which is less than an apple – and now weighs just over 5 kilograms – the size of a watermelon - so Baby Sphengic clearly loves food! To provide all the energy required for development, the chick consumes 800g of food daily, which is 20% of its body weight – so we're sure an underwater feed won't be a difficult task to master at all!"
Blood samples from the chick have been sent for DNA testing to confirm it's sex, with a sex and name announcement to be shared in the next few weeks! Stay tuned to our Facebook page for the exciting announcement.