Penguin Expedition Now Open
Wednesday 9th November 2016
Penguins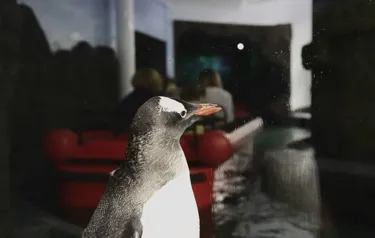 The wait is over - now YOU can become an explorer on the ultimate Penguin Expedition!
SEA LIFE Sydney Aquarium is thrilled to celebrate the official launch of Penguin Expedition! After months of hard work by the passionate team at SEA LIFE Sydney Aquarium, the world's first ride-through penguin experience is now open, providing guests the opportunity to get up close to the newest and cutest penguins in Sydney!
Enter the world of Gentoo penguins to discover all about their sub-Antarctic habitat. This spectacular species can be found on Macquarie Island - an Australian owned island located in the south-west Pacific and right here in the all-new PENGUIN EXPEDITION, only at SEA LIFE Sydney Aquarium!
Charity Penguin Photo Auction
To kick off our amazing launch, the SEA LIFE Trust is auctioning a selection of stunning penguin photos taken on Macquarie Island to raise money for a future research project studying the impact of single use plastic on these majestic birds.