Love Peng-wins in World Pride this year!
Friday 24th February 2023
Penguins, Events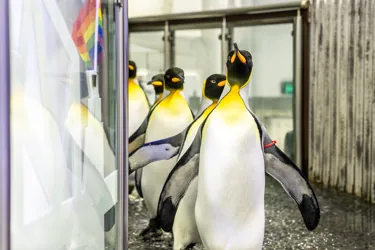 The Gentoo and King penguins proudly marched over a city skyline of the Sydney Harbour Bridge, Opera House and Sydney Tower Eye, to commentary and rainbow flag waving from our passionate keepers and LGBTQIA+ representatives, Alie Selvaraj and Scott Brazelton.
Sphen and Magic, our world-famous male, gentoo penguin couple even made a special guest appearance, showing characteristic curiosity, and standing under the bridge in prime spectator position.
PRIDE Penguin Parade participants included:
Neptune, Arthur and Aurora: this season's polyamorous, bisexual king penguin 'throuple' (who will win?!)
Forrest and Nog, our newest king penguin couple, showing signs of a blossoming romance (how sweet!)
Odin and Wallace, the first interstate couple, following the arrival of Odin from SEA LIFE Melbourne Aquarium last winter
Derrick, the king penguin celebrating self-love this season (we're all a little bit like Derrick, aren't we?)
PRIDE Penguin Parade commentator and Penguin Keeper, Alie Selvaraj said, "The team at SEA LIFE Sydney Aquarium proudly supports and celebrates the right for everyone, including our penguins, to express themselves freely.
"Our gorgeous King and Gentoo penguins are so full of individual personality and are fitting representatives of love taking many forms in the animal kingdom. They are the perfect ambassadors for our fun, Sydney WorldPride tribute!"
The Sydney Harbour Bridge and city skyline, adorned in rainbow flags, will be positioned in the sub-Antarctic penguin enclosure until 5th March 2023, alongside some other Sydney WorldPride celebratory elements of our current 'Dating & Mating' guest experience, showcasing love, breeding and youngster rearing in the animal world.
Highlights of our WorldPride event include the chance to:
Help our same-sex penguin power couple Sphen and Magic build their pebble nest
Discover which fish species transition from male to female throughout their life cycle
Learn about the male endangered White's seahorse giving birth while visiting the on-site nursery
Snap a selfie with Pig the dugong in Pig's Tunnel of Pride, or in front of the Oceans of Pride glitter wall
So, come on in and say 'Hi!' to all of our penguins as we celebrate all their diverse relationships!