5 Minutes with a Penguin Trainer
Friday 10th February 2017
Penguins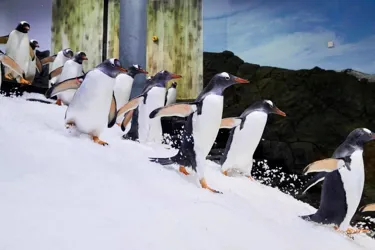 Laurie
1. What made you decide to pursue a career working with animals?
I have wanted to work with animals since being a young kid, however I spent all my time playing sport competitively for my country. When injury prevented me from the Olympics I realised it was time to pursue my real passion, animals. I started out as a vet nurse with the long term goal to work with exotic species and help to make a difference in conservation and awareness.
2. What experience do you have working with marine life and animals?
I volunteered at a vet clinic for a year before becoming a vet nurse for approximately 5-6 years, I then worked in animal behaviour and training before moving into the zoo industry where I volunteered at Taronga and Australia Zoo for 6 months collectively. I gained a paid job at Australia Zoo for a year before moving back to Sydney and working at WILD LIFE Sydney Zoo for the past 9 months. Collectively I have over 9 years' experience working with a range of animals.
3. What excites you most the SEA LIFE Sydney Aquarium team?
I am looking forward to working with a great team and company to build an interactive awareness program, promoting the conservation of not only penguins but all aquatic species.
4. What do you like most about working with penguins? 
I have volunteered with penguins previously and feel I can relate to them a lot. Being a water athlete, I think I understand the feeling of being more at home on the water then on land. They are a beautiful species of animal with a lot of character and who need us to be the voice for them. Educating the public on such a beautiful species is a privilege.
5. Tell us about the need for conservation and what is threatening the penguin's natural habitat of Macquarie Island?
Wild penguin colonies throughout the world are under increasing threat due to pollution, global warming, dwindling fish stocks and habitat destruction, and it is our responsibility to educate the public on how they can help. This education is so important as what our guests see and do at SEA LIFE Sydney Aquarium, and how they choose to switch their actions at home, can affect the penguins' habitat for years to come.
6. What are your favourite things to do outside of work?
I love to be outdoors, exercising, hiking, swimming or diving and always taking photos. I love to keep a naturalist diary of all the animals I spot on my travels.