Pig Predicts NRL Grand Final
Friday 2nd October 2015
Dugong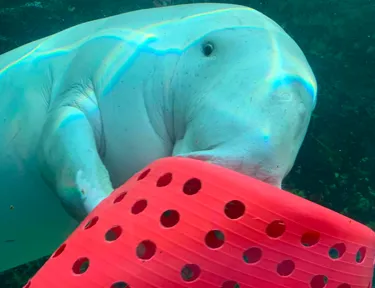 SEA LIFE Sydney Aquarium's resident dugong Pig today made a splash as he predicted theCowboyswill take out top spot ahead of the 2015 NRL Grand Final on October 4.
Kicking off his prediction with a good luck belly scratch from the Darling Harbour attraction's Marine Biologists, the 320 kilogram Queensland-born star player helped decide the winning team by choosing his favourite team-coloured football to play with.
Showcasing original NRL moves including the 'Flipper Tumble' and 'Nose Bump', the 17-year-old spent the morning playing and pushing the winning football around his Dugong Island exhibit, much to the delight of SEA LIFE Sydney Aquarium Marine Biologist Andrew Barnes.
"Pig loves a good play in his Dugong Island exhibit and today was no exception. NRL fans will be happy to know that Pig chose the Cowboys as the winning Queensland team," said Mr Barnes.
Today's NRL Grand Final prediction was a first for the attraction's star dugong and is a part of SEA LIFE Sydney Aquarium's dugong enrichment program, where Marine Biologists enrich the dugong's environment with activities and objects to help stimulate natural behaviour.
"Dugongs are intelligent animals, so it's important that we provide a variety of fun enrichment activities to encourage increased behavioural diversity. Today, it's footballs, however we have a number of ways of providing enrichment including playing with buckets and brightly-coloured traffic cones," continued Mr Barnes.
Affectionately named after his eating habits, Pig currently weighs more than three times the size of the average NRL player and has called SEA LIFE Sydney Aquarium home for the past seven years after being rescued from the wild in the North Queensland at a young age.
Due to habitat loss, pollution and boat strikes, dugongs are currently listed as vulnerable in the wild and Pig and his aquatic friend Wuru serve as dugong ambassadors for SEA LIFE Sydney Aquarium to help educate the public on the precious species and allow visitors to get up close and personal with the aquatic giants.
See here how to get involved to help safeguard the future of dugongs in the wild. An initiative led by the SEA LIFE Trust, donations will be used to fund projects which help protect and restore the population of Australia's threatened species and their habitats.