Private Aquarium Dining Gift Voucher Sale!
Wednesday 9th December 2020
Events, Christmas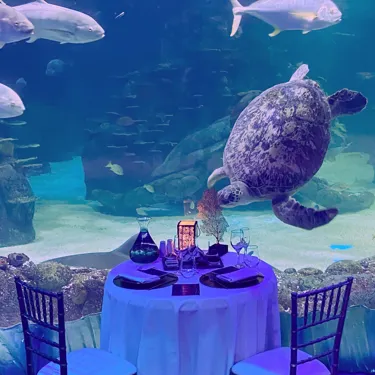 With Christmas just around the corner the pressure is on to find the perfect gift for your loved one.
If 2020 has taught us anything it is the importance of spending time with the people we love, and with travel restrictions still impacting so many of our plans to get away, there is no better time than now to experience the best that Sydney has to offer!
For the first time since we started running our Private Dining Experience in SEA LIFE Sydney Aquarium (in 2015) we will be running a Gift Voucher Sale, with $50 off your dining experience!
SEA LIFE Sydney Aquarium is one of the most unique and captivating dining locations in Sydney and is guaranteed to be a night you will not forget! But don't take our word for it – here is what some of our recent guests have to say:
"We had such a great dining experience at Sea life Sydney 'Heart of the Reef' and I just wanted to say a big thank you to you for helping organise it! My partner was so surprised and has said this is the BEST dining experience he has ever had (and he's had some beautiful experiences)!" – Kathryn
"What an incredible experience for our two-year wedding anniversary it's going to be hard to top! As a Pisces I felt right at home I could have stayed here forever. Will never forget it" - Tanja
"I love a good night out of food, drinks and catching up with friends and a private dining experience with Merlin Events at SEA LIFE Sydney Aquarium really tops it as one of the best i've ever had! The experience had everything I love and really is something you should keep in mind when planning a dinner or fun night out that is unique!" - Local Influencer & Blogger Krystal McKinley – check out the full blog from her experience here ( https://www.krystal-mckinley.com/post/wine-and-dine-under-the-sea)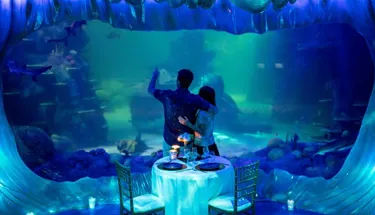 The experience includes a self-guided tour, three course dinner, drinks & intimate dinner locations set up in the NEW Day and Night on the Reef zone. Dine in the heart of the Great Barrier Reef in with huge floor-to-ceiling window into the reef. This amazing Oceanarium will mesmerise you as hundreds of fish, turtles, sharks and sawfish cruise the reef before your eyes.
With six stunning locations to choose from, each with their own unique view of the reef exhibit, this is truly a memorable experience.
Our Gift Voucher sale will run for 2 weeks from Wednesday 9th December through to Wednesday 23rd December. Please completed & return the form below to purchase your voucher.
Booking form