Splash of Romance
Friday 16th September 2016
Events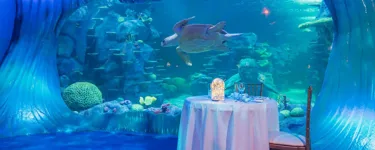 Escape to a beautiful underwater world with your partner for the most romantic private dinner in Sydney! Explore our amazingly themed zones including Dugong Island, Shark Valley, Discovery Rockpool and our very own Sydney Harbour display to meet our vibrant fish friends in complete privacy.
As you arrive at the glass chamber of the Great Barrier Reef, you will be greeted with a personalised dinner set up amongst an incredible backdrop Diamond and Golden Trevallies! Who doesn't love a little bling?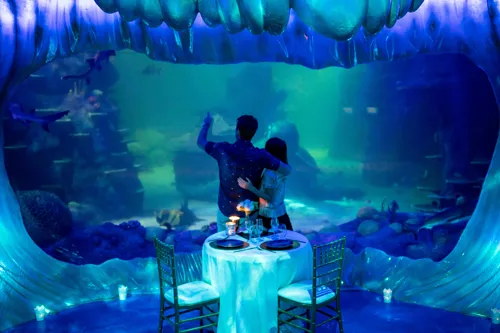 Be completely immersed in this unique yet serene function space and forget the busyness of your everyday life. You choose you where you want to eat! Whether it's savouring the spicy Cajun style Seafood Paella by the Reef Theatre or sitting in the floor to ceiling glass chamber of the Great Barrier Reef and sharing the special seafood stand, you will be splashed away by this truly unique dining venue in Sydney.
The Merlin Events NSW team can bring this dream date to life for you and accommodate most other requests. Have a special theme in mind? Opt to decorate the Great Barrier Reef or the Reef Theatre with fairy lights, coloured glow cubes, or any other props to create the ambience you want.
Find out more