ReeF45 – WILD LIFE Conservation Fund Bushfire Fundraiser
Sunday 12th January 2020
Events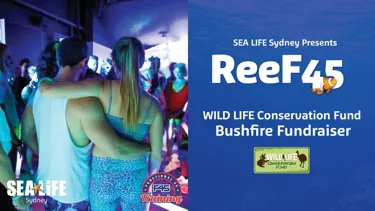 This event has now ended. Best fishes!
As we all come to terms with the magnitude of the current bushfire disaster across NSW, South Australia and Victoria and the extensive loss of lives, homes, wildlife and habitat which have left us feeling a sense of despair, many people are asking themselves - what can I do to help? 
Here at SEA LIFE Sydney Aquarium we share that sense of grief and desire to help those in need so we have teamed up with local businesses, F45 Zetland and Alexandria, to hold a unique fundraising event. "ReeF45" is a morning workout session to raise funds for the WILD LIFE Conservation Fund.
We are calling Sydney-siders to Do Good and Feel Good on Sunday 19th January at 8am to join us for special 45 minute F45 workout with all proceeds of tickets sold supporting WILD LIFE Conservation Fund Initiatives. Working within the Zoo and Aquarium industry our hearts go out to the helpless creatures who are now without water, food and shelter as well as the incredible teams of vets, specialists and volunteers that have dedicated their time to rescue and rehabilitate Australian wildlife.   


Details: 
When: Sun 19th Jan 2020, 8:00 am - 10:00 am
Where: SEA LIFE Sydney Aquarium | 1-5 Wheat Rd, Sydney NSW 2000, Australia
Tickets are $30 per person and includes:
Exclusive early access to SEA LIFE Sydney Aquarium at 8am for you and your group
Unique fitness opportunity to experience the globally recognised F45 fitness challenge within SEA LIFE Sydney Aquarium.  
45 minutes of guided functional fitness training across 10 exercise stations
Discounts on food & beverage from the SEA LIFE Sydney Café to enjoy after your workout.
SEA LIFE Sydney Aquarium will match all funds raised through ticket sales
Please note this is a 16+ event.
More Information:
WILDLIFE Conservation Fund is dedicated to conserving Australian native wildlife by funding research and conducting educational programs and events. During this time of disaster for Australian Wild Life the WLCF has partnered with

 

Science for Wildlife Ltd, who are undertaking ground-breaking research and rescues on koalas within the Blue Mountains region and The Sleepy Burrows Wombat Sanctuary who are working diligently daily to save whatever creatures survive the horrific bush fires by placing basins of water and food in key areas where we have seen survivors.
F45 was born in Australia and combines elements of high-intensity interval training (HIIT), circuit training and functional training. A mix of circuit and HIIT style workouts geared towards everyday movement. 
FAQ
What is F45 and can anyone participate? 
F45 is a functional training session in a 45 minute time frame. F45 caters for all fitness levels and exercises can be scaled to suit the individual.

What do I need to bring on the day?

Bring your best smile! Oh and a towel and water bottle! We will also have a collection point for further donations so please feel free to also bring a little bit of cash along. 
What exercises will we be doing?

A high-intensity interval training session comprised of body-weight exercises whilst admiring the incredible Day & Night on the Reef zone and its inhabitants.
Who is the trainer on the day?

Coaches from F45 Zetland and Alexandria will be kindly donating their time for this wonderful event.
I really loved the session - can I sign up for more F45 classes?

YES YES YES! In fact, F45 Alexandria and Zetland will have special memberships for sale on the day!