Rescued Dugong Released!
Thursday 4th February 2016
Dugong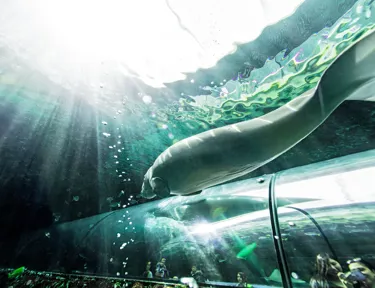 Today, marine experts from SEA LIFE Sydney Aquarium successfully released a rescued dugong back into the wild, following an intensive three-month long rescue and rehabilitation operation.
Affectionately known as 'Merimbula', the 340 kilogram male dugong was rescued from Merimbula Lake and relocated - via a RAAF Hercules - to the Gold Coast where it has been under the 24/7 care of dugong experts from SEA LIFE Sydney Aquarium and veterinary specialists from Sea World.
For the past two weeks, Merimbula has been residing in Sea World's back-of-house specialist quarantine area, where he has undergone a series of thorough health checks including testing for infectious diseases and receiving doses of antibiotics to improve his deteriorating skin condition.
SEA LIFE Sydney Aquarium dugong expert and Marine Mammal Supervisor, Andrew Barnes, said rescue and relocation operations like these are a testament to the positive work the team does within the marine conservation space.
"For the past three months, SEA LIFE Sydney Aquarium has been heavily involved in every step of Merimbula's rescue including providing expert advice when he was first sighted in Merimbula Lake last year, right through to ensuring his rehabilitation went smoothly - evident in his improved skin condition, great appetite and his short stay in quarantine prior to release," said Mr Barnes.
"Dugongs are currently listed as vulnerable to extinction in the wild, which means operations like these are crucial in helping to preserve the future of this precious species for generations to come."
With the help of Sea World, Merimbula was safely secured by SEA LIFE Sydney Aquarium and transported via boat from the Gold Coast to Moreton Bay, where he was given a final health check and fitted with a neutrally-buoyant satellite transmitter, which experts hope will provide valuable insight into the movements, patterns and behaviour of dugongs in the wild.
Throughout the entire process, the expert team worked with numerous organisations including the Department of Environment and Heritage Protection (EHP) to ensure Merimbula would not negatively impact the health of the resident dugong population by introducing any infectious diseases.
Dugongs face a number of threats in the wild, including boats strikes and loss of sea grass habits, sedimentation running off into our waterways and coastal developments all of which are attributing to their rapidly declining population numbers.
Currently home to the only pair of rescued dugongs on display in the world, Pig and Wuru serve as ambassadors for the vulnerable to extinction species and aim to further educate the public on their important place in the ecosystem.
In combination with dedicated breeding programs, regular marine life rescue operations across Australia and significant marine protection efforts, SEA LIFE Sydney Aquarium is a globally recognised, respected and influential voice in marine conservation thanks to its BREED, RESCUE, PROTECT initiatives.