Meet the newest member of the koala family and the adorable penguins of Sydney & Melbourne
Friday 3rd July 2020
school holidays, Live stream, Penguins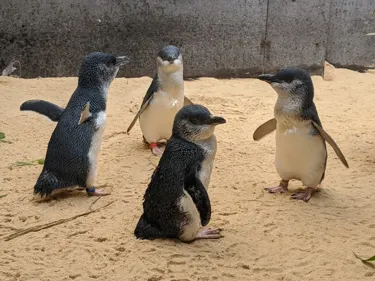 Free live streams from WILD LIFE Sydney Zoo, SEA LIFE Sydney Aquarium, SEA LIFE Melbourne Aquarium and LEGOLAND Discovery Centre. 
Looking for school holiday fun? Together with WILD LIFE Sydney Zoo, SEA LIFE Melbourne Aquarium and LEGOLAND Discovery Centre, we have got you covered both at home with live streams via Facebook and inside our attractions during the winter school holidays.
The Facebook live streams taking place over the school holidays include: 
Sunday 5 July:
Waddle into LEGOLAND Discovery Centre at 9:00am where Master Model Builder Kieran will be celebrating the arrival of SEA LIFE Melbourne Aquarium's fluffy King penguin chicks by creating adorable King and Gentoo chicks out of LEGO! Download the pack in advance so you can build along at home.  
Wednesday 8 July:
Join WILD LIFE Sydney Zoo at 9:30am for an exclusive school holiday edition of the Zoo's much-loved Facebook live streams, celebrating the stars of the show – their adorable koalas! Join Keeper Renee from Koala Rooftop for a behind the scenes look as the koalas have their important health check and weigh-in. PLUS, tune in for a very cute and adorable announcement about the newest arrival to the family – you won't want to miss this! 
Continue your adventures at home by tuning in LIVE at SEA LIFE Sydney Aquarium at 2:30pm to meet the little penguins of Sydney! The penguin Keepers will be performing a routine weighing session but we must warn you – it will be adorable!
Thursday 9 July:
Watch the Fluffy Friends at SEA LIFE Melbourne Aquarium at 4:00pm. Meet Lorraine, Whopper, Sparkie and Quentin, the four fluffy King penguin chicks that hatched earlier this year. The cheeky chicks and their preening parents are currently in the penguin nursery – where you can watch them waddle live! 
Sunday 12 July:
Head back to LEGOLAND Discovery Centre at 9:00am to build along with Kieran who will be letting his fans choose what he builds! Don't forget to download your activity pack to get all the pieces you need and for brick-tastic LEGO activities.
Monday 13 July:
Tune into SEA LIFE Sydney Aquarium at 10:30am for a Plastic Free July live stream. This July, the aquarium has replaced a tank of jellyfish with plastic bags to showcase the impact of plastic pollution. Meet aquarist Rob and learn about the impact that plastic has on our oceans as well as what you can do to help reduce plastic in your everyday lives. 
But wait, there's MORE! After tuning in online, Sydneysiders can head on down to both the aquarium and the zoo these July school holidays and see the stars of the live streams in person. Meet the newest member of the koala family face to face, then get up close and watch as the penguins swim about in their exhibit. If you look below the surface, you may even spot another Sydney icon - the Port Jackson Shark! 
In Melbourne, visit SEA LIFE Melbourne Fluffy Friends in real life or head to LEGOLAND Discovery Centre for the ultimate LEGO experience where you might also meet Master Model Builder Kieran!
Don't forget to book your tickets and time slots online before you visit during the school holidays. Visit the WILD LIFE Sydney Zoo, SEA LIFE Sydney Aquarium, SEA LIFE Melbourne Aquarium and LEGOLAND Discovery Centre websites to secure your spot today!