SEA LIFE's Ocean Youth makes waves this awards season
Thursday 21st February 2019
SEA LIFE Trust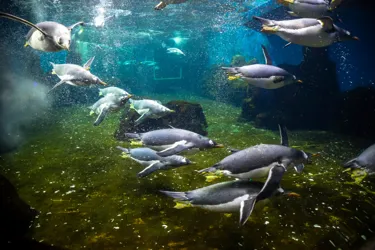 The SEA LIFE Ocean Youth program has been crowned a winner in the Marine Stewardship Council's (MSC) 2019 Wave of Change awards, taking out top gong in the Oceania Youth Engagement category.
The Wave of Change awards celebrates pioneering brands across Australia who are championing solutions within their sectors to protect the future of our oceans. The Ocean Youth program stands tall amongst other high profile winners including Coles, John West and IKEA.
Ocean Youth is a program funded and run by the SEA LIFE Trust, the not-for-profit arm of SEA LIFE which is the largest operator of aquaria in the world including SEA LIFE attractions in Sydney, Melbourne, Mooloolaba and Auckland. The program aims to build tomorrow's leaders and change makers to conserve and protect our oceans, and is all about gaining skills and implementing solutions to some of the issues our oceans face, including plastic pollution.
Sally Bolton, Senior Communications Officer Oceania, at the Marine Stewardship Council was thrilled to break the news to the Ocean Youth team and said: "We really appreciate the ongoing efforts by SEA LIFE & SEA LIFE Trust to inspire and empower youth to champion ocean conservation and sustainability in their communities, for future generations.
Claudette Rechtorik, GM of SEA LIFE Trust Aust/NZ, couldn't be happier with the result and said: "We're delighted that our Ocean Youth program has been recognised by the MSC for the second year in a row. It's testament to the truly inspirational youth that participate in the program who are so keen to positively influence their communities. They understand the enormous challenges our planet faces and are full of ideas and solutions to influence positive change for a brighter future". 
Ocean Youth is currently available in Sydney, Melbourne, Mooloolaba and Auckland for high school ages students, with limited spots available. To find out how to get involved, visit oceanyouth.org