SEA LIVE Silent Disco
Thursday 22nd September 2016
Events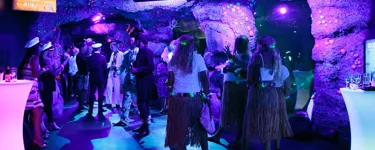 This event has now ended.
On 30 September, dive into the first ever SEA LIVE Silent Disco, the coolest underwater party. Where else can you party with schools of fish and sharks in the most unique themed venue?
Brought to you by Silent Sounds and SEA LIFE Sydney Aquarium, the SEA LIVE Silent disco is an after dark event not to be missed! The floor-to-ceiling Reef Theatre gives partygoers a unique glimpse into the Great Barrier Reef all whilst bopping along to the latest party anthems.
Headphones are essential and tunes will be transmitted to you Silent Disco style. Our three DJs will play the hottest hits, old school favourites and sweetest beats through your headphones so you can listen to your favourite tunes while your friends listen to theirs!
Want to take a break from the music?
The beauty of a silent disco is that you can easily take your headphones off and chat to friends whenever you want to unlike nightclubs and bars where loud music makes it impossible to have a conversation. Get a drink and watch the Diamond Trevally shimmy through the water.
To avoid disappointment, get your tickets now as this party is guaranteed to be sold out! We hope to see you and your dancing fins there.
Water are you waiting for?