Seahorse Safari Launches
Thursday 28th March 2013
Seahorses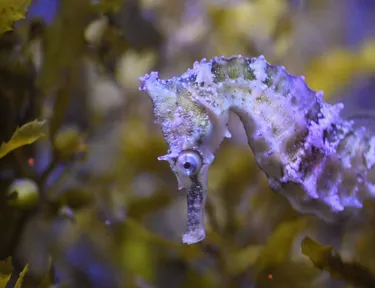 Our brand new seahorse expedition - Seahorse Safari -launched today and features some of Australia's most fascinating underwater residents from the seahorse family.
Seahorse Safari is an interactive journey throughout the attraction, and this morning one of our aquarists delicately released the final seahorses into one of various seahorse displays and fed some Razorfish and Potbelly Seahorses for the first time in their new home.
The displays in the Seahorse Safari expedition are the first to launch since the our multimillion-dollar renovation last year and are home to a variety of stunning species from the seahorse family including Potbelly Seahorses,  Razorfish, Seamoths, Pipefish, Weedy and Leafy Seadragons and the White's Seahorse or 'Sydney Seahorse', which is endemic to Sydney.
Kids can also document their fun and educational journey throughout the attraction. Each display offers interactive activities including the chance to explore fossils, a 3D find-the-seahorse scene, seahorse dance lessons and stamp stations so kids can mark their journey in their seahorse passports.
Many species of seahorse and pipefish are endangered and more still are listed as vulnerable or at risk of becoming endangered. As a part of SEA LIFE Sydney Aquarium's ongoing commitment and dedication to conserving Australia's marine life, in 2007 the attraction successfully bred White's Seahorses onsite ahead of working with Manly Council to tag and release them onto nets at Manly Cove. This effort to boost wild population numbers and improve our understanding of how the seahorses survive in their marine habitat has paved the way for best practice in net cleaning which is still in place today.