SLIMED at SEA LIFE Sydney
Tuesday 11th September 2018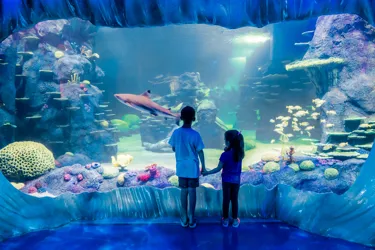 These September school holidays, up the slime factor as part of our all-new 'Slimed' interactive experience.
In an attraction-first, guests will go on a slime-tastic underwater journey as they learn weird and wonderful facts about the slimy creatures of the sea including anemones, sea cucumbers, moray eels and 'the most disgusting creature on earth', the hagfish.
For the daring,  try your hand at 'Black Box Challenges' where guests can stick their hands in a mystery black box and guess what slimy creature the texture resembles! For the creative, there will be daily slime-making workshops at 11:00am and 2.30pm where guests learn how to create their own slime at Darwin's Lab (located between Shipwreck and Jurassic Seas).
Did you know that hagfish produce a slime-like substance, which when mixed with water, expands to several hundred times its original volume and works as a defence mechanism by clogging the throat of their predators?!
Learn these facts and more at Sea Life Sydney Aquarium these September school holidays in the all-new 'Slimed' experience. But make like a slippery eel and 'slime' on in before the experience slips away on Sunday 14 October.
So water you waiting for?