Youth Invasion
Thursday 17th October 2019
SEA LIFE Trust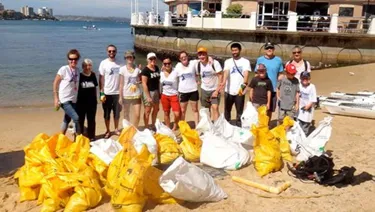 On Friday 4th October, SEA LIFE Trust ANZ partnered with UTS Shopfront & their team from the Event Management Graduate program to co-ordinate and host our very first Youth Invasion concept.
Students across the planet are rising in response to our climate emergency &  biodiversity threats and a lack of leadership in response to them. Young voices demanding positive change for our planet are growing louder & clearer. And to help support & celebrate them, we created Youth Invasion @ SEA LIFE Sydney Aquarium!
The event highlighted inspiring youth projects, stories, ideas and activities that will turn the tide on the health of our oceans & build a better future. 

We wanted to hear teens' unique take on the beauty of our oceans, the amazing marine creatures that call them home, and what we can all do to make a positive difference for a sustainable future. And based on the beautiful pledge wall created by Anita from UTS & enthusiastically manned by Max from Ocean Youth Sydney (pic above) we got to see that this demographic cares deeply about our planet and is championing for positive change to secure a sustainable future.
We made bees wax wraps (which are surprisingly easy), turned old Ts into reusable bags, gave away seedlings so participants can begin to grow their own food no matter where they lived. We showcased Bruce the shark sculpture made from recycled materials by the very talented Sarah, who is participating in Ocean Youth Sydney; Bruce is so popular he is still on display at SEA LIFE Sydney!
We had a raffle with some amazing prizes thanks to a whole suite of event sponsors and raised over $1,000. And finally we screened the inspirational '2040' leaving participants with tangible actions and pathways to a cleaner and more sustainable future.
We can all make a positive difference, whether it's choosing reusable coffee cups, water bottles, cloth bags or looking for the MSC logo when purchasing our seafood. And we all need to, because the 'earth is what we all have in common' and it's facing some pretty serious health challenges right now.
What will you pledge for our oceans?