Sea Life Sydney celebrates 30th Birthday
Thursday 27th September 2018
Events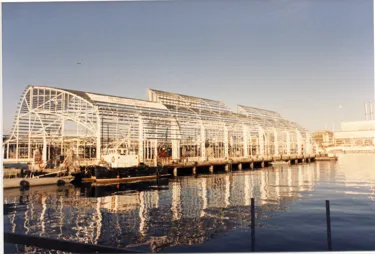 Today, Sea Life Sydney Aquarium is celebrating 30 fin-tastic years of fun, conservation and magical underwater memories since it first opened its doors in 1988! For 30 magnificent years, the iconic Sydney attraction has continued to innovate and expand, earning its reputation as one of the world's leading aquariums.
Following two years' of construction, the aquarium opened in 1988 as was officially recognised by the Guinness Book of World Records as the largest aquarium in the world! From seals and sharks, to stingrays and schools of vibrantly coloured tropical fish, 'Sydney Aquarium' as it was known at the time, quickly became the place to be to discover the underwater world!
Site and Animal History
Now 30 years young, Sydney's premier attraction is home to over 700 species of sea life across seven themed exhibits!  In 2008, Sea Life Sydney became home to two of only five dugongs in human care at the time. The rescue dugongs who have served as ambassadors, help educate the public and assist staff to better understand the species for future research and rescues. In 2016, the state's first colony of sub-Antarctic penguins hopped on in to their very own Macquarie Island-inspired exhibit, featuring the world's first ride-through penguin experience, and quickly became the coolest new kids in town!
2018 has been very eventful, with the launch of Sydney's only cageless shark diving experience, Shark Dive Xtreme in April and the birth of 'Ani' our miracle ray in June! Through the rare scientific phenomenon of parthenogenesis, an 11 year-old eagle ray gave birth to the site's very own Anakin Skywalker despite not having contact with a male for over nine years! With no chance of slowing down, the attraction is preparing to unveil its latest project in November – a $5 million interactive exhibit, Day and Night on the Great Barrier Reef, which will take guests on a colourful, sensory experience of the world-famous coral reef.
"Sea Life Sydney has come a long way in the last 30 years – the time has just swum by! Personally, it is an honour to work at a world renowned site with world class aquarists and creatures that have made so many memories for international and local guests. There's nothing more rewarding than working alongside this amazing team to create memories for the thousands of guests that come
through our doors each year," said Richard Dilly, General Manager of Sea Life Sydney Aquarium. "2018 has been a huge year for us and we have plenty more to celebrate in the coming months!
For the love of FUN!
"There's more to Sea Life Sydney Aquarium than meets the eye – we know how to have fun around here! Diving Santas, leprechauns, Darth Vadars, Easter Bunnies – you name it – they've all been spotted in our tanks! Underwater Australia Day BBQs and pumpkin-carving competitions, and don't get me started on the latest Baby Shark dance phenomenon which saw our underwater rendition go viral! Our sea family has even played Cupid throughout our 30 year history, with many proposals and happily-ever-afters created in our underwater heaven."
Talk about having friends in high places - the site which was renamed as Sea Life Sydney Aquarium in 2011, is no stranger to a visit from both international and local superstars! High profile fans of the attraction have included Angelina Jolie, P!NK, Kelly Rowland, Rove McManus, Tennis stars Bernard Tomic and Nick Kyrgios, the cast of Modern Family and many more.
Conservation and Education
"Our birthday is also a wonderful opportunity for us to consider the impact our history has had on visitors and supporters. Sea Life has a focus on public education and marine conservation and works closely with the Sea Life Trust to continue their work in conserving marine life," says Claudette Rechtorik, Head of Sea Life Trust ANZ. "To date, over $1 million has been raised for the Sea Life Conservation Fund to continue their work in conserving marine life, which makes this anniversary that much more significant for us."
School Holidays
These September school holidays, come celebrate with Sea Life Sydney and up the slime factor as part of the all-new 'Slimed' interactive experience.  Go on a slime-tastic underwater journey as they learn weird and wonderful facts about the slimy creatures of the sea including anemones, sea cucumbers, moray eels and 'the most disgusting creature on earth', the hagfish.
Daring guests can try their hand at 'Black Box Challenges' and stick their hands in a mystery box before guessing what slimy creature the texture resembles! For the creative, there will be daily slime-making workshops at 11:00am and 2:30pm held at Darwin's Lab.
Birthday offer
Guests can celebrate our milestone birthday with a special $30 ticket offer available all weekend long (27/9/18 – 30/8/18) available when guests quote "1988" at our admissions desks.

Terms and conditions: Quote the promotional code "1988". Tickets must be purchased at admissions – not valid at Kiosks. Not valid with any other discount, offer, concession, online ticket, multi-attraction ticket or advance booking.