What's on in Sydney these Easter Holidays
Wednesday 30th March 2022
school holidays, Family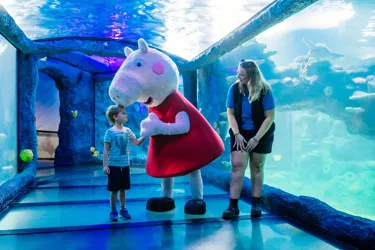 These Easter holidays, our Sydney attractions have a range of big-hitter activities to entertain the 'kids' from 1 to 100 years in age. From Peppa Pig's interactive adventure with new furry, feathered and fishy friends, to an 80s' themed arcade extravaganza 268 metres above the city of Sydney to an A-list party Instagram frame photo challenge.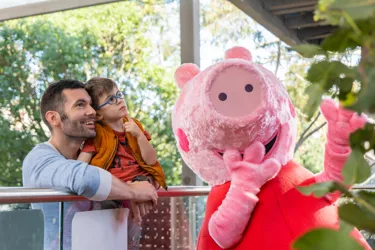 Peppa Pig at SEA LIFE Sydney Aquarium and WILD LIFE Sydney Zoo
Friends of Peppa Pig are invited on an interactive adventure these school holidays that includes meeting new animal friends, jumping in muddy puddles as well as solving fun and informative challenges along the way. And of course, meeting Peppa herself at her live meet and greets!
At SEA LIFE Sydney Aquarium, Peppa's aquarium adventure will lead you to various interactive stations where guests can help her count all the starfish, find all the hidden seahorses and help the clownfish find its way back home. Meet some incredible creatures along the way and discover how to keep them safe in our oceans.
At WILD LIFE Sydney Zoo, little piggies will follow Peppa Pig's outback adventure as they journey through the zoo completing fun activities and making furry friends along the way! On Peppa Pig's outback adventure visitors will discover Ringo the wombat, Rocky the mammoth Saltwater Crocodile, Ella the yellow-footed rock-wallaby, Davey the quokka and many more amazing animal friends.
Book Now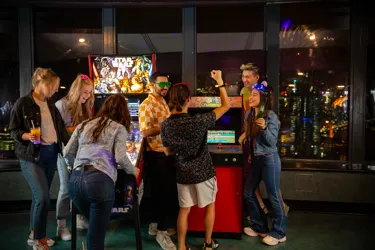 Sydney's Highest 80s' Arcade at Sydney Tower Eye
For the month of April, Sydney Tower Eye brings hours of sky-high fun as it's transformed into a retro arcade!
These school holidays, get your kids to ditch the Switch and visit Sydney Tower Eye as the best view in Sydney is transformed into an 80s' themed arcade extravaganza! Head 268 metres above the city of Sydney to the 80s' drenched Observation Deck for sky-high fun with a range of iconic arcade games like pinball, Dance Dance Revolution, Space Invaders, Donkey Kong, twin car racer, PacMan, air hockey table and more.
During April only, every day time General Admission ticket unlocks hours of fun and free play on a tonne of old school arcade games AT NO EXTRA COST!
Show off your dance skills on Dance Dance Revolution, battle it out against your kids on the Twin Car Racer or challenge your each other in a game of PacMan and show them you're the king of cool!
So forget the Xbox, PlayStation and Nintendo Switch these school holidays and instead kick it old skool whilst getting amongst the live arcade action with your kids – they will love you for it!
This event is made possible all thanks to City of Sydney and the Night-time diversification grants.
Find out more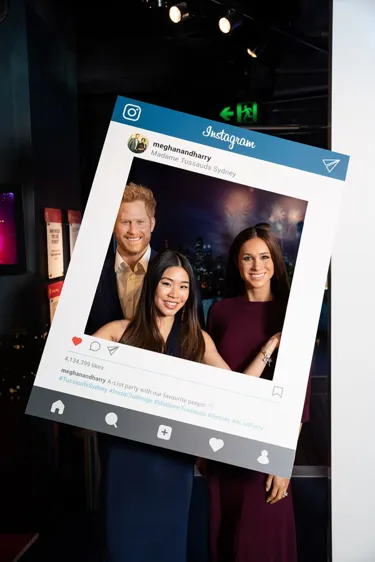 Madame Tussauds Sydney A-List Party
Put on your most glamorous outfit and get ready to hit the red carpet alongside the hottest celebrities in town for the ultimate A-List party these school holidays!
Prove your celeb 'bestie' status to all your followers and see how many celebrity Insta accounts you can slide into with our life-size Instagram photo frames!
Snap a selfie with Johnny Depp before saying grabbing a quick pic with Harry and Meghan on your way down the red carpet. Next, Angelina Jolie wants a photo with you - better hurry! Then it's time to saddle up for a pic next to Ryan Gosling who has been looking at you from across the room. Hop into frame and get those 'likes' rolling in to complete the A-List celebrity challenge - there's no time to waste! 
Don't miss out on visiting Madame Tussauds Sydney - the ultimate A-List party invite these school holidays!
Find out more