Have fun day and night
Friday 18th October 2019
Sydney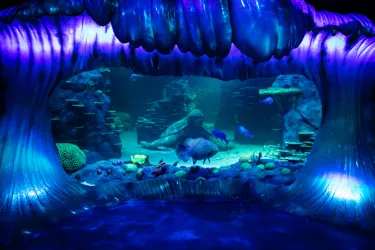 Sunshine or moonshine, this quick Sydney travel guide has you covered with fun cultural activities and memorable nature adventures.
Day
The Iconic Sydney Fish Markets
These vibrant markets are the largest of their kind in the Southern Hemisphere. Arrive early to see up to 100 sustainable seafood species traded every day. Sounds like the perfect time to try some fresh fish and chips!
This easy 8.5km walk wraps around beautiful parks and has great views of the Sydney CBD skyline. Meet locals with their adorable four-legged friends, and tick off lesser-known aspects of the Sydney Harbour Bridge and the Anzac Bridge.
The Darling Quarter's Innovative Playground
Climb, swing, slide, soar – you name it! This action-packed playground is one of the country's best. The kids will be entertained for hours. And if it's a hot day, don't forget your swimmers, so you can dance through water fountains. Best of all –it's free!
Up for an out-of-this-world adventure? SEA LIFE Sydney Aquarium is home to over 13,000 magical creatures across unique habitat zones. You can swim with sharks (yes, you read that correctly.) Get suited-up in snow gear to meet King and Gentoo penguins, or touch hair-raising rock pool critters. Whatever your age, you'll be in awe of the underwater world.
Night
Intriguing Chinatown Night Activities
A local-favourite, these multicultural community markets are lit by lanterns with wafting sizzling smoke. Every Friday evening, come down to Little Eat Street to taste delectable Asian flavours like yum cha, teppanyaki, sushi, pho and more.
A Candle-Lit Underwater Dinner for Two
Picture this: an intimate white-clothed table with a three-course meal and wine – right by floor-to-ceiling windows overlooking a spectacular ocean reef. Celebrate, as hundreds of fish and turtles cruise before your eyes. This movie-moment is possible at SEA LIFE Sydney Aquarium, and it's the only one of its kind in the city.
Sparkling Views from Sydney Tower Eye
Sydney's tallest structure is where you'll witness unrivalled 360-degree views of the beautiful sea-hugging city. On a clear day, you can see all the way to the famous Blue Mountains! As the sun dips, the open dusk skies over an awakening starry concrete jungle is a sight you'll never forget.
Circular Quay's Waterside Walk
Catch breathtaking views of the Sydney Harbour Bridge, the Sydney Opera House, and iconic ferries coming and going – all at this bustling cove. Along the way, why not grab some cheery ice-cream and find a grassy spot to watch the world go by? It's one of the quintessential Sydney night activities!
Fun Fact
So, you've ticked off your day and night adventures. What about the day and night adventures of animals? Have you ever wondered what nocturnal animals do while they're awake? In the wild, we'd usually only see animals when the sun's out. But here's some cool news! Side-by-side attractions, SEA LIFE Sydney Aquarium, and WILD LIFE Sydney Zoo both have special exhibits to give you a rare insight into local night critters during their 'day time!' Check out SEA LIFE Sydney's all-new 'Day and Night on The Reef' and WILD LIFE Sydney's 'Nightfall.'