SEA LIFE Sydney Aquarium launches Animal Rescue Centre!
Monday 25th March 2019
Turtle
We have officially opened our Animal Rescue Centre with the arrival of our first patient, a rescued Green Sea Turtle named Matilda.
Following the closure of Manly SEA LIFE Sanctuary in 2018, we began working on our own Animal Rescue Centre, which has been in the making for over six months. The Centre has the approved permits to rescue animals from all of NSW and a dedicated team of curators and aquarists who will rehabilitate and nurse the patients back to health before releasing them back into the wild.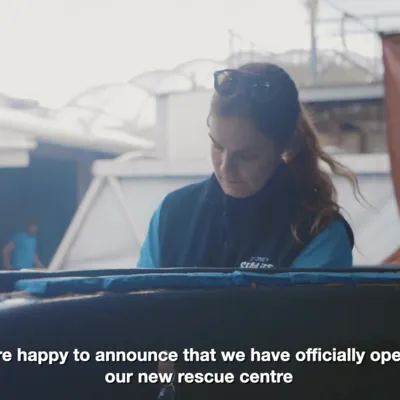 Emily Best, Senior Aquarist here at SEA LIFE Sydney Aquarium, said: "We got a call back in February from a member of the public who advised us that a Green Sea Turtle was found struggling in Dolans Bay, Port Hacking (NSW). The female turtle was underweight, suffering from buoyancy issues and covered in barnacles."
After naming her Matilda, the member of the public that found her, contacted the curatorial team and a home was immediately set up for her in our Animal Rescue Centre.
"Matilda wasn't eating much at the beginning and we were becoming quite concerned, then after two weeks we came in to see that she had passed plastic during the night. The poor thing had ingested over one meter of fishing line and a sticker from a Turkish candy bar, which had clearly caused her discomfort, pain and impacted her appetite. Matilda's rescue reinforces the devastating impact that plastic pollution is having on marine life, who mistake plastic for food. Fortunately for Matilda, she didn't fall victim this time but others will if we don't change our ways," added Emily.
The Animal Rescue Centre took over three months to build and now contains five rescue tanks with unique water filter systems that can accommodate up to seven rescue animals at any one time.
"After six weeks in the Animal Rescue Centre, Matilda has got her appetite back, she's gained weight, is nice and strong and we're thrilled to confirm that we'll be releasing her back in to the wild in the next few weeks," said Emily.
Richard Dilly, General Manager, said: "Following the closure of Manly SEA LIFE Sanctuary, we've been working hard to build a similar Animal Rescue Centre at SEA LIFE Sydney Aquarium. I'm really proud of the team for creating a centre that can care for marine life ranging from turtles to sea snakes and tropical fish. The Animal Rescue Centre embodies the SEA LIFE values of: Breed, Rescue and Protect and I look forward to sharing more successful rescue stories."
We encourage members of the public to send fan mail to the rescue animals, whose stories will be shared on our Facebook page and website.
A picture of the fishing line, sticker (from a Turkish candy bar) that Matilda passed and the barnacles that were living on Matilda when she was rescued.
What should members of the public do if they come across sick or injured marine life?
For all Turtles, sea snakes, sharks, rays and other fish call 0404 109 198
If you find a sick, injured or orphaned native animal,13 000 WIRES or 1300 094 737 or fill in the Report a Rescue Form.