Myrtle the turtle moves into brand NEW HOME!
Tuesday 30th October 2018
Turtle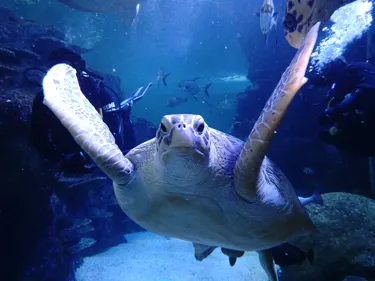 Following six months of construction, we are delighted to have started moving our much loved residents into their new home, the amazing $5 million new exhibit – Day and Night on the Reef. 
Our first creature to be moved to their new home was our much loved, Myrtle the Turtle. To help Myrtle settle in, Head Curator, Chris Brown (and his daughters) camped out at the aquarium for the night and monitored Myrtle's behaviour to ensure she settled in smoothly. The role of 'Turtle Watcher' is a unique and important one.
Chris Brown said "It's an exciting day here at Sea Life Sydney, Myrtle the Green Turtle has just moved into her new exhibit. Myrtle is a rescue turtle. She's been with us for a long time now and she's been nursed back to health and is doing very well in her new environment here.
"It's going to be a very busy 24 hours for us, as with all animals, we monitor them as soon as they move into a new home so we're going to taking observations all night just to make sure that Myrtle is very happy in her new home"
Meet Myrtle:
Myrtle is a very special Green Sea turtle. We rescued her over five years ago and due to her buoyancy issues, we have attached three metal plates which allow her to swim with ease. Today we changed her plates and conducted a full health check and we're pleased to confirm she's in a great condition
Myrtle was involved in a boating accident in 2013 and rescued by staff at Sea Life Manly Sanctuary who nursed her back to health
She recovered from her wounds but air became trapped under her shell as it healed, causing her to float higher than her head (therefore experiencing  difficulty to dive, swim and find food)
Myrtle has been fitted with weight plates at the end of her shell which enable her to swim
Our team regularly review Myrtle's buoyancy and replace her plates