Where to See Sharks in Sydney
Friday 15th February 2019
Sharks, Sydney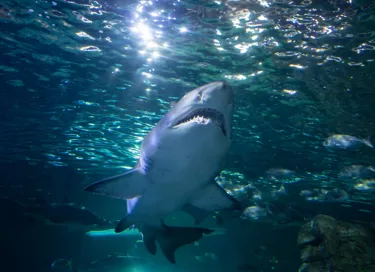 Duuun dun, duuun dun, duuun dun… if you've always been curious about these beautiful creatures of the deep, now's your chance to dive into their world. Earn your daredevil stripes; come face to fin with five species of shark in SEA LIFE Sydney's Shark Dive Xtreme. It's an otherworldly experience in the heart of Sydney's CBD, so take the plunge with one of only a few experiences across the globe where you're promised an underwater encounter with sharks.
Shark Dive Xtreme
If you've never been diving before, worry not – the Shark Dive Xtreme requires no previous diving experience. Along with the Sharks, you'll be underwater with Sydney marine marvels such as huuuuuuuge Stingrays, Wobbegong Sharks and a host of other sea stars. Imagine getting up close to a colony of Grey Nurse Sharks, ranging from an impressive 2.5 metres to a whopping 3.2 metres; all without a cage. Book early for one of up to four dives per day, each with a maximum of only five people.
What's Included
If you're over the age of fourteen, you can sign up for the Shark Dive Xtreme. When you decide to meet these apex predators underwater, we'll suit you up with all your dive equipment and wetsuit. When you're dressed for diving, you'll get an introduction to scuba diving, a briefing and a training session that lasts around 1.5 hours. Then, when you're ready to dive into Shark Valley, you'll get 30 minutes face-to-fin with sharks and sea creatures galore. When you're done underwater, you can spend the rest of the day exploring SEA LIFE Sydney Aquarium, as admission is included in your experience. Boost your bragging rights with your 'I dived and survived' Shark Dive Xtreme certificate to show off on your socials.
Spot Shark Species
When you come and dive with us, you'll spot these five Shark species:
Grey Nurse Shark
Even though they sport sharp teeth, these sharks don't want to eat you; they prefer to gobble on fish and can swallow their prey whole. SEA LIFE Sydney Aquarium supports conservation measures to protect them through the establishment of marine parks.
Blacktip Reef Shark
You'll see these guys coming by the conspicuous black tips on their fins. Growing up to 120 centimetres long, these beauties chow down on crustaceans and other small fish and hang out in the shallow waters of reef ledges (hence their name).
Whitetip Reef Shark
These guys hang out in caves as well as coral heads and reef ledges; they love to eat eels, octopus and crustaceans. Slender in shape, they have beautiful oval-shaped eyes and can grow up to 1.6 metres long. Their eye-catching white tipped fins easily identify them.
Wobbegong Shark
Their awesome name comes from the Aboriginal word meaning 'shaggy beard,' which refers to the whisker-like growths around their mouth. You'll know these guys by their patterned skin which keeps them camouflaged on the ocean floor, and they can grow to 1.5 metres long.
Grey Reef Shark
These common Sharks hang out in shallow coastal waters, down to 60 metres. They can grow up to a significant 1.9 metres long and love to munch on bony fish, cephalopods and a smorgasbord of crustaceans like squid, octopus, crabs and lobsters.
If diving with Sharks is on your bucket list, SEA LIFE Sydney Shark Dive Xtreme is the place for a heart-stopping encounter with bite. If you're ready to take the plunge, find out more below.
Book Now