SEA LIFE celebrates World Oceans Day on Monday 8 June!
Tuesday 2nd June 2020
World Oceans Day, Live stream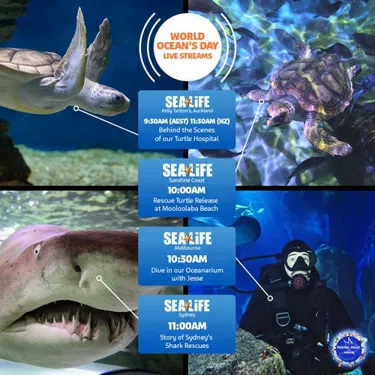 SEA LIFE Aquariums across Australia and New Zealand are celebrating World Oceans Day on Monday 8 June with a series of captivating live streams, including live vision of a rehabilitated sea turtle being released back into the ocean!
Taking place annually on 8 June, World Oceans Day brings people together to celebrate and honor the ocean. It's an opportunity to unite the world to protect and restore our shared oceans, which are under threat from pollution, climate change and overfishing. 
From 9:30am (AEST) on Monday, tune into Facebook Live for four fin-tastic videos aiming to inspire people all over Australia and New Zealand to love the ocean and its inhabitants.
9:30am at SEA LIFE Kelly Tarlton's Aquarium:
10:00am at SEA LIFE Sunshine Coast:
10:30am at SEA LIFE Melbourne Aquarium:
11:00am at SEA LIFE Sydney Aquarium:

The SEA LIFE mission is to inspire a love for the ocean and its creatures – and to encourage people to preserve them for the future.


SEA LIFE Kelly Tarlton's, SEA LIFE Melbourne and SEA LIFE Sydney are currently open to the public, with SEA LIFE Sunshine Coast opening very soon! Check each aquarium's website for updates, tickets and health and safety information.