Our Turtles SHELLebrated with a delicious squid cake!
Friday 22nd May 2020
Turtle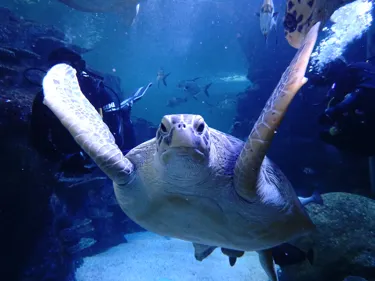 Resident Sea Turtles Myrtle, Dave and Chong here at SEA LIFE Sydney Aquarium have SHELLebrated World Turtle Day in style with a delicious homemade squid cake! 
World Turtle Day, established back in 2000 by non-profit organisation American Tortoise Rescue, is a day to recognised, observe and help protect tortoises and turtles as well as bring awareness to their disappearing habitats around the world.  This year's theme of World Turtle Day focuses on brining attention, increasing respecting and providing knowledge about these wonderful sea creatures – something the team at SEA LIFE Sydney Aquarium are very passionate about.
Myrtle, the only female at SEA LIFE Sydney is a rescued sub-adult green turtle and is estimated to be between 15-22 years of age. She loves having her shell scratched and often distracts the aquarists whilst they are cleaning by swimming under their legs so they will scratch her back! Sadly she was a victim of a boat strike incident which left her with buoyancy issues and now requires weights to be attached to her shell to combat such issues. These weights have to be reattached every 3-6 months as the Velcro falls off when she sloughs the skin on her shell. As this is not a permanent solution and the injury cannot be healed, Myrtle was kept in human care.
Brothers Dave and Chong, estimated to be between 27-30 years of age, are a hybrid nest of Green Turtle and Loggerhead Turtle (predominately Loggerhead Turtle traits) and can usually be found napping together in the tank. They have incredibly powerful jaws, and use their front flippers to help tear off pieces off their food, eating mostly squid, fish and prawns.
All seven species of turtle worldwide are either vulnerable, endangered, or critically endangered with one of the most common threats and major effects being plastic pollution. This World Turtle Day, consider the ways you can help these incredible creatures by practicing to reduce, reuse and recycle.