Myrtle the Turtle celebrates World Turtle Day
Wednesday 23rd May 2018
Turtle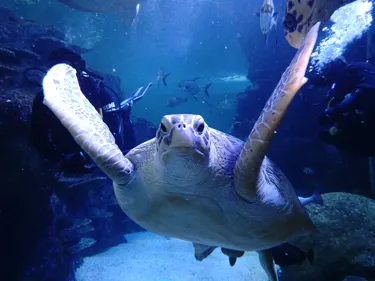 It is a special moment for SEA LIFE Sydney as we shellebrate World Turtle Day with our NEW turtles! 
This month SEA LIFE Sydney welcomed three turtles, two loggerhead and one green sea turtle, from our sister attraction at Manly SEA LIFE Sanctuary.  The trio named, Dave, Chong and Myrtle, are rescue turtles that are not able to be released safely back into the wild but we're pleased to report that they have settled into their new home at Shark Alley swimmingly. 

Crowd favourite, Myrtle, was rescued by SEA LIFE staff in 2013 and given a new lease of life after she was fitted with metal plates to help her swim following a boat accident which left cracks in her shell and resulting buoyancy issues. Guests can easily recognise Myrtle by these metal plates that are attached to her shell.    
This World Turtle Day, curatorial staff held a health check of Myrtle, which involved replacing her metal plates and are happy to report that she is in great shape! Myrtle now weighs a whopping 126kgs and needs to have her plates changed every four months to ensure they Myrtle can swim effectively. 
Watch Myrtle's health check!  
SEA LIFE Sydney work closely with our charity partner, SEA LIFE Trust, and to ensure that we continue to protect this incredible species $1 from every ticket sold today will be donated to the SEA LIFE Trust - Every Turtle Counts Fund!