Yoga Classes Extended
Tuesday 6th August 2013
Events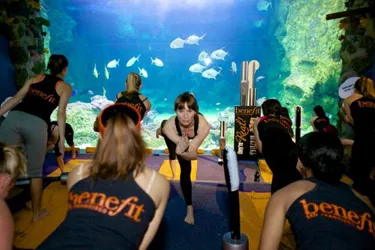 At SEA LIFE Sydney Aquarium, we held our first Yoga Under the SEA class this morning. The class was a huge success with everyone enjoying the tranquil environment by doing their yoga poses in front of the stunning Great Barrier Reef exhibit. The shark and fish were quite curious about what was going on too!
To help you kick start your day, SEA LIFE Sydney Aquarium has teamed up with acclaimed Yoga by the Sea instructor, Sasha Hawley. These yoga classes give you the chance to take some time out to create a sense of mental clarity ahead of the working day.
Due to popular demand we have extended the hour long yoga sessions through until the end of November 2013. So you can now treat your mind, body and soul to this holistic and tranquil experience every Tuesday from 7am – 8am.
The classes have been so popular that the remaining Tuesdays in August only have a few spots left - make sure you book so you don't miss out.
THE DETAILS
What:  Yoga Under the SEA
When: Tuesdays 'til end of November, 2013
Time: Tuesdays 7am – 8am (arrive at 6:45am)
How much: $25 for a one hour class
To book: Online bookings only