Experience Temporarily Unavailable
In line with the latest announcements from the Australian Federal Government with regard to Covid-19 and capacity management & hygiene control, the Glass Bottom Boat Experience is not available until further notice. The safety and wellbeing of our guests and staff is our priority and we will take all necessary precautions to ensure their continued welfare. We apologise for any inconvenience caused. If you have questions regarding your pre-booked Glass Bottom Boat Experience please contact us on DH.Pos@merlinentertainments.com.au for more information. 
Want to be notified when this experience is available again? Sign up to our newsletter below and and be the first to know when you can ride over our Great Barrier Reef tank in our glass bottom boat again.
Sign Up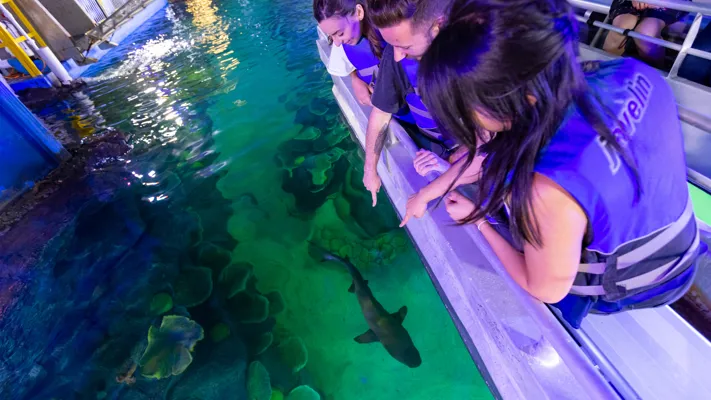 Ahoy mateys! Hop on board the Glass Bottom Boat
Be skippered across the NEW Day and Night on the Reef exhibit!
This ticket includes general admission to the aquarium!
Enjoy a rarely seen view of the NEW Day and Night on the Reef exhibit as you are skippered above the tank. See colourful marine life right underneath the boat as you glide across the water, and learn all about life on the Great Barrier Reef.
The Great Barrier Reef is the world's largest coral reef system, stretching for 2,300kms along the Queensland coast. On your tour you'll meet an array of amazing animals through the floor of the boat and over the side, including several species of shark, huge sawfish, dozens of species of vibrant tropical fish and our rescue marine turtles - all beautiful creatures which are found on the Great Barrier Reef.
Along the way you'll learn about coral, the effects of coral bleaching and how we can all protect the Reef and its creatures in our everyday life… there's also plenty of time for questions about your favourite animals from our team of experts!
Book online and save but you must then collect your ticket at our Experience and Tours desk located at our admissions to check in for your experience.

Please note that this experience is open to those aged 3 years and older.
Glass Bottom Boat Tour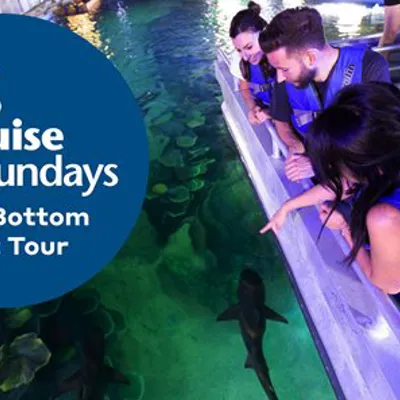 What's included?
AGES 3+
A 30 minute unique experience*
Unique view of the Great Barrier Reef display from the water
Discover the unique stories about our rescue turtles, Dave, Choong and Myrtle 
Get access to back of house, staff-only areas of the aquarium
Learn about the aquarium and animals from our fun and friendly tour guides
All day admission to explore SEA LIFE Sydney Aquarium included
*Times subject to change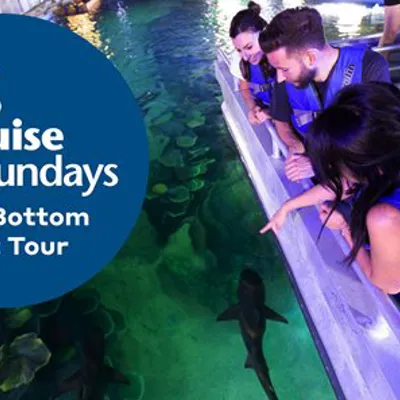 Important Information
This experience runs every hour on the hour from 11:00am to 4:30pm daily.
A maximum group of 8 people per tour (ages 3 years and older). Places fill quickly, book online now so you don't miss out!
Infants (age 0-2) are NOT permitted on this experience due to height restrictions
You are required to wear closed toe shoes to go back of house due to uneven surfaces
Please arrive AT LEAST 15 minutes prior to tour departure. We recommend arriving at the aquarium an hour before your tour so you have plenty of time to enjoy the journey before meeting at Day and Night on the Reef zone.
ALL online tickets are already discounted and so are NOT valid with any other coupons, offers, discounts or promotions.
We experienced the glass bottom boat while we where here and the guy that took us on it was brilliant he made sure we got to see everything and explained so much!
FAQs
This is an intimate experience with only 8 people per dive so sessions often book out in advance. To avoid missing out, we recommend booking online.
Guests need to be 3 years or older to experience the Glass Bottom Boat. Those 2 years or younger are unable to participate due to height restrictions.